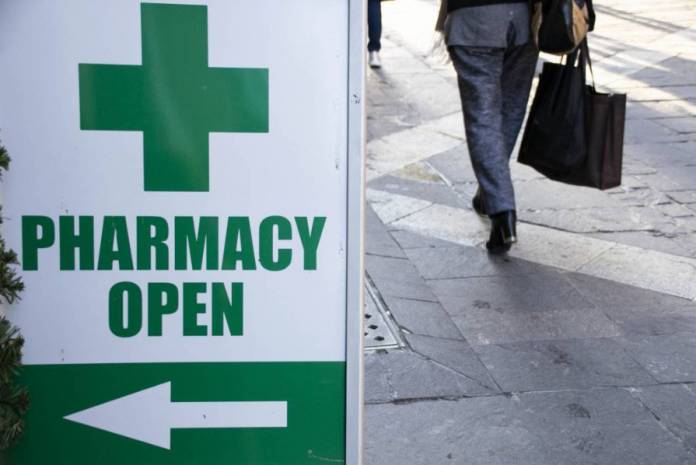 Valletta, Floriana
Collis Williams Pharmacy, 15, Triq ir-Repubblika, Valletta
21226281
Ħamrun, Marsa
San Raffael Pharmacy, 247, Triq Ħal Qormi, Marsa
21221118
Qormi, Santa Venera
Anici Pharmacy, Triq Anici, Qormi
21487162
Birkirkara, Fleur-de-Lys
Rational Pharmacy, 74/75, Triq il-Wied, Birkirkara
21441513
Gżira, Msida, Ta' Xbiex, Pietà, Gwardamanġa
Tony's Pharmacy, 100, Triq Sir Patrick Stuart, Gżira
21332080
San Ġwann, St Julians, Is-Swieqi, Pembroke, Ta' Giorni, L-Ibraġ
Lourdes Pharmacy, Triq in-Naxxar, San Ġwann
21387479
Sliema
The Economical Dispensary, 86/87, Triq Sir Adrian Dingli, Sliema
21330376
Lija, Attard, Balzan
M4 Pharmacy, Triq il-Linja, Attard
21436531
Mosta, Naxxar, Għargħur, Mġarr
St. Albert Pharmacy, Triq l-Oratorju, Għargħur
21413402
Mellieħa, St Paul's Bay, Buġibba, Qawra
St. Simon Pharmacy, 8, Dawret il-Gżejjer, Buġibba
21571649
Paola, Tarxien, Santa Luċija
Tarxien Pharmacy, 59, Triq Ħal Tarxien, Tarxien
21802986
Isla, Birgu, Bormla, Kalkara
Alpha Pharmacy, Triq Bormla k.m Vjal il-Kottoner, Fgura
21673811
Żabbar, Marsaskala, Fgura (PO)
Mediatrix Plus Pharmacy, 7, Triq is-Santwarju, Żabbar
27826685
Birżebbuġa, Għaxaq, Żejtun, Marsaxlokk, Gudja
Gudja Pharmacy, Triq il-Kappillam c/w Triq William Baker Gudja
21696422
Luqa, Mqabba, Żurrieq, Qrendi, Kirkop
Chrysantemum Pharmacy, Triq San Nikola, Qrendi
21680828
Żebbuġ, Siġġiewi
Tal-Grazzja Pharmacy, Triq Franġisk Farrugia, Żebbuġ
21462068
Rabat, Dingli, Mtarfa
Santa Marija Pharmacy, Misraħ Frenċ Abela, Dingli
21452447
Rabat (Victoria), Gozo
Batu Pharmacy, 38, Triq il-Palma, Victoria, Gozo
21551841
Other localities, Gozo
St. John Pharmacy, 85, Triq l-Indipendenza, Xewkija, Gozo
21563052
The airport pharmacy is also open from 8.00 am to 10.00 pm
Mobile Blood Donation
On Sunday 23rd February 2020, the mobile blood donation unit will be available Infront of Pembroke Parish Church from 8.30 am till 1.00 pm. If you feel healthy, kindly get your ID card and donate blood.
Health Centres on Sundays and Public Holidays
The Mosta, Paola and Floriana Health Centres are open for emergencies 24/7. On Sundays and public holidays, the Gzira health centre is open for emergencies between 8.00 am and 5.00 pm, there is also a nurse service between 8.00 am and 8.00 pm. People are to visit their district health centre and are to present their identity card.