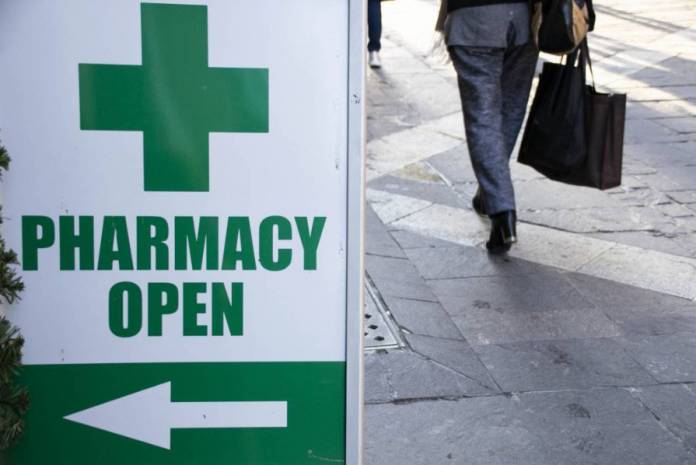 Tista' taqra bil- Malti.
Valletta, Floriana
Vilhena Pharmacy, 3, Triq Sant' Anna, Floriana
21244114
Ħamrun, Marsa
Brown's Pharmacy, 706, Triq il-Kbira San Ġużepp, Ħamrun
21238623
Qormi, Santa Venera
Brown's Pharmacy, 278, Triq il-Vitorja, Qormi
21499697
Birkirkara, Fleur-de-Lys
Pharmaplus, Triq Ganu, Birkirkara
21492958
Gżira, Msida, Ta' Xbiex, Pietà, Gwardamanġa
Mayer Pharmacy, 33, Ix-Xatt ta' Xbiex, Msida
21331732
San Ġwann, St Julians, Swieqi, Pembroke, Ta' Giorni, L-Ibraġ
St Andrew's Pharmacy, Triq il-Qasam, Ibraġġ
21371062
Sliema
The Economical Dispensary, 86/87, Triq Sir Adrian Dingli, Sliema
21330376
Lija, Attard, Balzan
Misraħ Kola Pharmacy, Triq il-Pitkali Attard
21434137
Mosta, Naxxar, Għargħur, Mġarr
Medicine Chest Pharamcy, Triq Demitriju Farrugia, Għargħur.
21422204
Mellieħa, St Paul's Bay, Buġibba, Qawra
Qawra Pharmacy, Earl's Court/1, Triq l-Imħar, Qawra
21580881
Paola, Tarxien, Santa Luċija
Distinction Pharmacy, 32, Pjazza Antoine De Paule, Paola
21693412
Isla, Birgu, Bormla, Kalkara
Alpha Pharmacy, Triq Bormla k.m Vjal il-Kottoner, Fgura
21673811
Żabbar, Marsaskala, Fgura (PO)
Polymer, Triq ix-Xagħjra, Żabbar
21676263
Birżebbuġa, Għaxaq, Żejtun, Marsaxlokk, Gudja
Martin's Pharmacy, 182, Triq Birżebbuġa, Birżebbuġa
21651031
Luqa, Mqabba, Żurrieq, Qrendi, Kirkop
Kristianne Pharmacy, Triq Pietru Pawl Saydon, Żurrieq
21647391
Żebbuġ, Siġġiewi
Menelo Pharmacy, Triq it-Tabib Nikol Zammit. Siġġiewi.
21462957
Rabat, Dingli, Mtarfa
Ideal Pharmacy, 63, Triq il-Kbira, Rabat, Malta
21455479
Rabat (Victoria), Gozo
Fontana Pharmacy, Triq il-Għajn, Fontana, Gozo
21566979
Other localities, Gozo
Ta' Pinu Pharmacy, Triq Franġisk Portelli, Għarb, Gozo
27888128
The airport pharmacy is also open. Please check with them re: their opening hours. Tel no: 23694369.
Mobile Blood Donation
On Sunday 23rd August 2020, the mobile blood donation unit will be available in 16th September Square (market area), Mosta from 8.30 am till 1.00 pm. If you feel healthy, kindly get your ID card and donate blood.
General Practitioners Service in Health Centres on Sundays and Public Holidays
The Mosta, Paola and Floriana Health centres are open for emergencies 24 hours seven days a week. The Gzira health centre is also open for emergencies (cases requiring urgent medical attention) between 8.00 am and 5.00 pm and a nursing service is available between 8.00 am and 8.00 pm on Sundays and public holidays. The public should attend the health centre of their catchment area. Persons without an identity card will not be attended to.