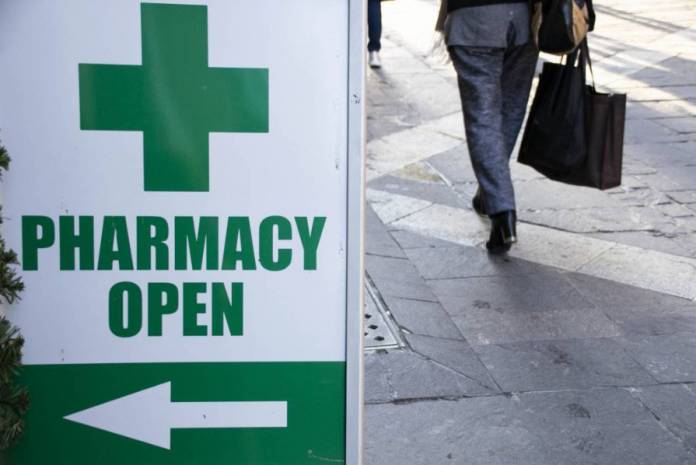 Tista' taqra bil- Malti.
Valletta, Floriana
Vilhena Pharmacy, 3, Triq Sant' Anna, Floriana
21244114
Ħamrun, Marsa
Brown's Pharmacy, 706, Triq il-Kbira San Ġużepp, Ħamrun
21238623
Qormi, Santa Venera
St. George's Pharmacy, 21, Triq il-Kbira, Qormi
21443045
Birkirkara, Fleur-de-Lys
Pharmaplus, Triq Ganu, Birkirkara
21492958
Gżira, Msida, Ta' Xbiex, Pietà, Gwardamanġa
Brown's Pharmacy, Shop 10, Yacht Marina Apartments, Triq il-Marina, Msida
21244366
San Ġwann, St Julians, Swieqi, Pembroke, Ta' Giorni, L-Ibraġ
Penny Lane Pharmacy, Triq is-Sejjieħ, Swieqi
21375373
Sliema
Mrabat Pharmacy, Triq l-Imrabat, Sliema
21313535
Lija, Attard, Balzan
St. Joseph Pharmacy, 164, Triq Annibale Preca, Lija
21414051
Mosta, Naxxar, Għargħur, Mġarr
St. Mary Pharmacy, Mġarr Dispensing Chemists, 71, Triq Sir Harry Luke, Mġarr Malta
21580711
Mellieħa, St Paul's Bay, Buġibba, Qawra
Parkes Pharmacy, 582, Triq San Pawl, San Pawl il-Baħar
21571764
Paola, Tarxien, Santa Luċija
Sta. Lucia Pharmacy, 1, Misraħ Dorell, Santa Luċija
21890111
Isla, Birgu, Bormla, Kalkara
White Cross Pharmacy, Shop A, Block 1, Fuq San Pawl, Bormla
21821671
Żabbar, Marsaskala, Fgura (PO)
May Day Pharmacy, Triq il-Vittorja, Żabbar
21826529
Birżebbuġa, Għaxaq, Żejtun, Marsaxlokk, Gudja
Martin's Pharmacy, 182, Triq Birżebbuġa, Birżebbuġa
21651031
Luqa, Mqabba, Żurrieq, Qrendi, Kirkop
Salus Pharmacy, 21, Misraħ ir-Republika, Żurrieq
21680761
Żebbuġ, Siġġiewi
The Bypass Pharmacy, Triq Mikiel Azzoppardi, Siġġiewi
21461681
Rabat, Dingli, Mtarfa
Anici Pharmacy, BLK A, Town Centre HOS, Mtarfa
21452833
Rabat (Victoria), Gozo
Taċ-Ċawla Pharmacy, Triq 7 ta' Ġunju 1919, Victoria, Gozo
21557819
Other localities, Gozo
Ta' Pinu Pharmacy, Triq Franġisk Portelli, l-Għarb, Gozo
27888128
The airport pharmacy is also open. Please check re: opening hours. Tel no: 23694369.
Mobile Blood Donation
On Sunday 22 November 2020, the mobile blood donation unit will be available in front of Holy Rood Church, Sant' Adrija Area, Żabbar, and at Xewkija Berġa from 8:30am till 1:00pm. If you feel healthy, kindly get your ID card and donate blood.
General Practitioners Service in Health Centres on Sundays and Public Holidays
The Mosta, Paola and Floriana Health centres are open for emergencies 24 hours seven days a week. The Gzira health centre is also open for emergencies (cases requiring urgent medical attention) between 8.00 am and 5.00 pm and a nursing service is available between 8.00 am and 8.00 pm on Sundays and public holidays. The public should attend the health centre of their catchment area. Persons without an identity card will not be attended to.