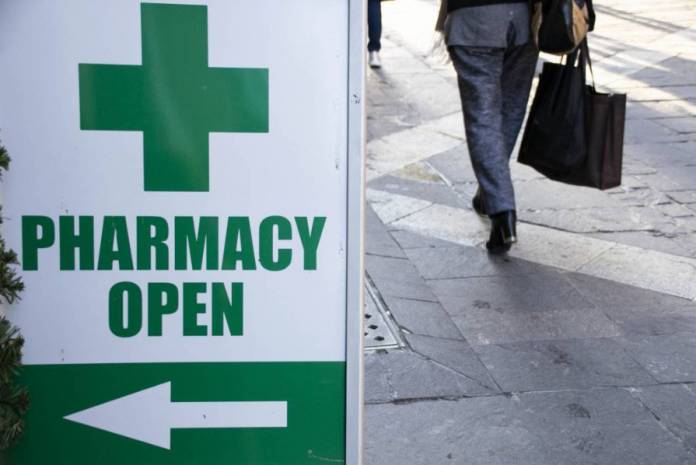 Tista' taqra bil- Malti.
Valletta, Floriana
New British Dispensary, 109/110, Triq San Ġwann, Valletta
21244813
Ħamrun, Marsa
Thomas' Pharmacy, 796, Triq il-Kbira San Ġużepp, Ħamrun
21238018
Qormi, Santa Venera
Brown's Pharmacy, 278, Triq il-Vitorja, Qormi
21499697
Birkirkara, Fleur-de-Lys
Herba Pharmacy, 183, Triq il-Kbira, Birkirkara
21443406
Gżira, Msida, Ta' Xbiex, Pietà, Gwardamanġa
Charing Pharmacy, Triq il-Mimosa, Pietà
21232954
San Ġwann, St Julians, Is-Swieqi, Pembroke, Ta' Giorni, L-Ibraġ
Balluta Pharmacy, 7, Pjazza Balluta, St Julians
21317888
Sliema
Drug Store: Anglo Maltese Dispensary Ltd. 382, Triq Manwel Dimech, Sliema
21334627
Lija, Attard, Balzan
Iklin Pharmacy, Triq Geronimo Abos, Iklin
21415499
Mosta, Naxxar, Għargħur, Mġarr
Pillbox Pharmacy, 63, Triq il-Bjad, Naxxar
21417406
Mellieħa, St Paul's Bay, Buġibba, Qawra
St. Simon Pharmacy, 8, Dawret il-Gżejjer, Buġibba
21571649
Paola, Tarxien, Santa Luċija
Sta. Lucia Pharmacy, 1, Misraħ Dorell, Santa Luċija
21890111
Isla, Birgu, Bormla, Kalkara
Verdala Pharmacy, 57, Triq il-Gendus, Bormla
21801698
Żabbar, Marsaskala, Fgura (PO)
Medicor Pharmacy, 57, Triq Carmelo Ritchie, Xagħjra
27032296
Birżebbuġa, Għaxaq, Żejtun, Marsaxlokk, Gudja
St. Philip Pharmacy, Triq iċ-Ċeppun, Għaxaq
21808723
Luqa, Mqabba, Żurrieq, Qrendi, Kirkop
Bronja Pharmacy, Sonata, Triq il-Bronja, Żurrieq
21682251
Żebbuġ, Siġġiewi
Santa Marija Pharmacy, 40, Triq l-Għasfura, Żebbuġ
21465346
Rabat, Dingli, Mtarfa
Ideal Pharmacy, 63, Triq il-Kbira, Rabat, Malta
21455479
Rabat (Victoria), Gozo
Castle Pharmacy, 2, Misraħ l-Indipendenza, Victoria, Gozo
21556970
Other localities, Gozo
Pisani Pharmacy, Bini Ġdid, Triq Sannat, is-Sannat, Gozo
21564447
The airport pharmacy is also open. Please check re: timings before you go.
Mobile Blood Donation
On Sunday 22nd March 2020, the mobile blood donation unit will be available in front of Holy Rood Church, Sant Andrija Area, Żabbar from 8.30 am till 1.00 pm. If you feel healthy, kindly get your ID card and donate blood.