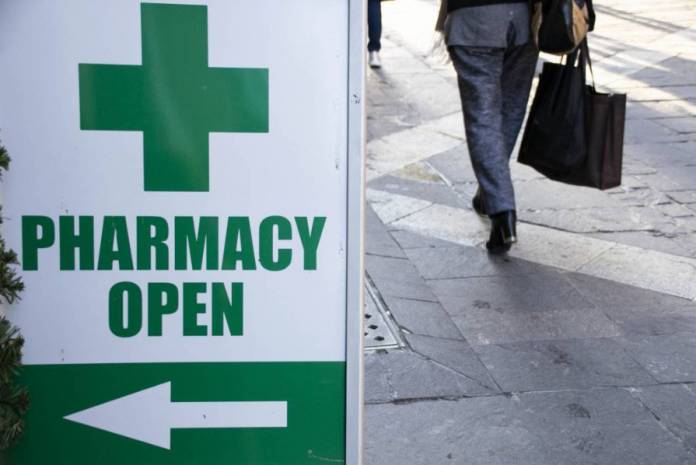 Tista' taqra bil- Malti.
Valletta, Floriana
Chemimart, 20/21, Triq ir-Repubblika, Valletta
21246051
Ħamrun, Marsa
Darwin Pharmacy, 152, Triq il-Kbira San Ġużepp, Ħamrun
21221512
Qormi, Santa Venera
Evans Pharmacy, 96/98, Triq San Bastjan, Qormi
21487020
Birkirkara, Fleur-de-Lys
St Paul's, Triq Brared, Birkirkara
21442135
Gżira, Msida, Ta' Xbiex, Pietà, Gwardamanġa
St Luke's Pharmacy, Triq San Luqa, Pietà
21241293
San Ġwann, St Julians, Swieqi, Pembroke, Ta' Giorni, L-Ibraġ
Krypton Chemists, Triq l-Ibraġġ, Ibraġġ
21370141
Sliema
Brown's Pharmacy, Unit 22, Triq Tigne, Sliema
21313233
Lija, Attard, Balzan
St Catherine Pharmacy, Triq id-Dielja k/m Triq Santa Katerina, Attard
21413442
Mosta, Naxxar, Għargħur, Mġarr
Rotunda Pharmacy, 7, Triq il-Kungress Ewkaristiku, Mosta
21411197
Mellieħa, St Paul's Bay, Buġibba, Qawra
Euro Chemist, Triq il-Kurazza, Qawra
21581876
Paola, Tarxien, Santa Luċija
Sta Lucia Pharmacy, 1, Misraħ Dorell, Santa Luċija
21890111
Isla, Birgu, Bormla, Kalkara
Brown's Pharmacy, 8, Misraħ l-Arċisqof Gozni, Kalkara
21673811
Żabbar, Marsaskala, Fgura (PO)
Mediatrix Plus Pharmacy, 7, Triq is-Santwarju, Żabbar
27826685
Birżebbuġa, Għaxaq, Żejtun, Marsaxlokk, Gudja
Pompei Pharmacy, Xatt is-Sajjieda, Marsaxlokk
21651278
Luqa, Mqabba, Żurrieq, Qrendi, Kirkop
Pasteur Pharmacy, Triq it-Tellerit, Safi
21689944
Żebbuġ, Siġġiewi
Remedies Pharmacy, Peter Pan, Triq Nikola Zammit, Siġġiewi
21460828
Rabat, Dingli, Mtarfa
Imtarfa Pharmacy, 207 Triq San David, Mtarfa
21451261
Rabat (Victoria), Gozo
Azzopardi Pharmacy, Triq il-Kapuċċini, Victoria, Gozo
21563233
Other localities, Gozo
Tony's Pharmacy, "Egret Court", Triq il-Wied, Marsalforn, Gozo
21563617
The airport pharmacy is also open. Please check with them re: their opening hours.
Mobile Blood Donation
On Sunday 21st June 2020, the mobile blood donation unit will be available in the parking next to Mosta Basilica and at Xewkija Berġa from 8.30 am till 1.00 pm. If you feel healthy, kindly get your ID card and donate blood.
General Practitioners Service in Health Centres on Sundays and Public Holidays
The Mosta, Paola and Floriana Health centres are open for emergencies 24 hours seven days a week. The Gzira health centre is also open for emergencies (cases requiring urgent medical attention) between 8.00 am and 5.00 pm and a nursing service is available between 8.00 am and 8.00 pm on Sundays and public holidays. The public should attend the health centre of their catchment area. Persons without an identity card will not be attended to.