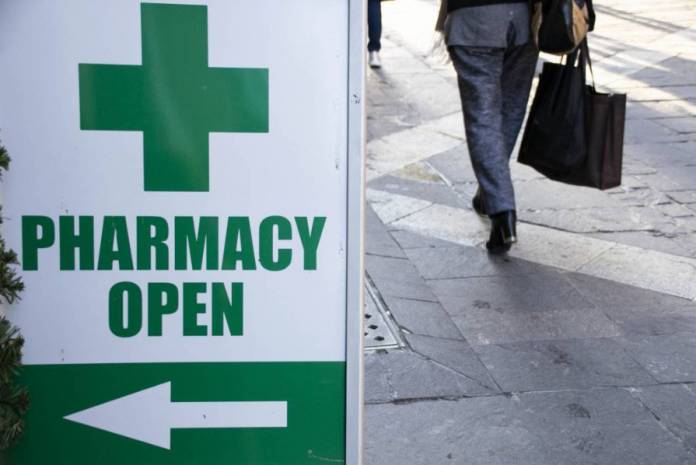 Tista' taqra bil- Malti.
Valletta, Floriana
Royal Pharmacy, 271, Triq ir-Repubblika, Il-Belt Valletta
21252396
Ħamrun, Marsa
National Pharmacy, 17, Triq Santa Marija, il-Ħamrun
21225539
Qormi, Santa Venera
Anici Pharmacy, Triq Anici, Ħal Qormi
21487162
Birkirkara, Fleur-de-Lys
The Local Dispensary, Triq Kan. K. Pirotta, Birkirkara
21493549
Gżira, Msida, Ta' Xbiex, Pietà, Gwardamanġa
St. Anthony Pharmacy, 56, Triq San Ġużepp, Tal-Pieta
21237327
San Ġwann, St Julians, Swieqi, Pembroke, Ta' Giorni, L-Ibraġ
St. Andrew's Pharmacy, Triq il-Qasam, Tal-Ibraġġ
21371062
Sliema
Drug Store: Anglo Maltese Dispensary Ltd. 382, Triq Manwel Dimech, Tas-Sliema
21334627
Lija, Attard, Balzan
M4 Pharmacy, Triq il-Linja, Ħ'Attard
21436531
Mosta, Naxxar, Għargħur, Mġarr
Brown's Chemists, Triq San Pawl, in-Naxxar
21417652
Mellieħa, St Paul's Bay, Buġibba, Qawra
Promenade Pharmacy, Triq il-Korp tal-Pijunieri, Buġibba
27441160
Paola, Tarxien, Santa Luċija
Brown's Paola Square Pharmacy, 64/65, Pjazza Antoine De Paule, Paola
21821646
Isla, Birgu, Bormla, Kalkara
Alpha Pharmacy, Triq Bormla k.m Vjal il-Kottoner, il-Fgura
21673811
Żabbar, Marsaskala, Fgura (PO)
MC Pharmacy, 303, Triq Ħaż-Żabbar, il-Fgura
21801962
Birżebbuġa, Għaxaq, Żejtun, Marsaxlokk, Gudja
Brittania Pharmacy, 5 Triq il-Bajja s-Sabiħa, Birżebbuġa
21658622
Luqa, Mqabba, Żurrieq, Qrendi, Kirkop
Central Pharmacy, 6, Triq San Ġużepp, Ħal Luqa
21692546
Żebbuġ, Siġġiewi
Santa Marija Pharmacy, 40, Triq l-Għasfura, Ħaż-Żebbuġ
21465346
Rabat, Dingli, Mtarfa
Santa Marija Pharmacy, Misraħ Frenċ Abela, Ħad-Dingli
21452447
Rabat (Victoria), Gozo
Abela Pharmacy, 42, Triq G.P.F. Agius De Soldanis, Victoria Għawdex
21556170
Other localities, Gozo
Nadur Pharmacy, Pjazza it-28 t'April 1688, in-Nadur Għawdex
21563589
The airport pharmacy is also open. Please check re: opening hours. Tel no: 23694369.
Mobile Blood Donation
On Sunday 20 December 2020, the mobile blood donation unit will be available in front of Local Council administrative offices in Żurrieq and Xewkija Berġa from 8:30am till 1:00pm. If you feel healthy, kindly get your ID card and donate blood.
General Practitioners Service in Health Centres on Sundays and Public Holidays
The Mosta, Paola and Floriana Health centres are open for emergencies 24 hours seven days a week. The Gzira health centre is also open for emergencies (cases requiring urgent medical attention) between 8.00 am and 5.00 pm and a nursing service is available between 8.00 am and 8.00 pm on Sundays and public holidays. The public should attend the health centre of their catchment area. Persons without an identity card will not be attended to.