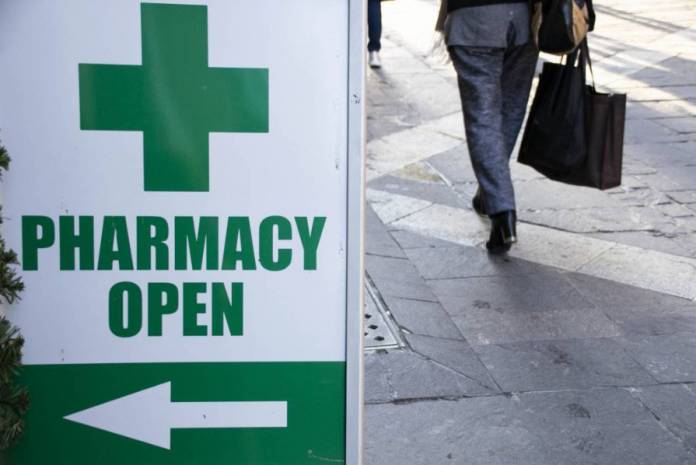 Tista' taqra bil- Malti.
Valletta, Floriana
Collis Williams Pharmacy, 15, Triq ir-Repubblika, Valletta
21234567
Ħamrun, Marsa
National Pharmacy, 17, Triq Santa Marija,Ħamrun
21225539
Qormi, Santa Venera
Drugshop Dispensary, Vjal De La Cruz, Qormi
21443221
Birkirkara, Fleur-de-Lys
The Local Dispensary, Triq Kan. K. Pirotta, Birkirkara
21493549
Gżira, Msida, Ta' Xbiex, Pietà, Gwardamanġa
St. Luke's Pharmacy, Triq San Luqa, Pietà
21241293
San Ġwann, St Julians, Is-Swieqi, Pembroke, Ta' Giorni, L-Ibraġ
St Julian's Pharmacy, 24, Triq G. Borg Olivier, St Julians
21369426
Sliema
Mrabat Pharmacy, Triq l-Imrabat, Sliema
21313535
Lija, Attard, Balzan
Medica Pharmacy, Triq in-Naxxar, Balzan
21445741
Mosta, Naxxar, Għargħur, Mġarr
Sgħajtar Pharmacy, Triq is-Sagħjtar, Mosta
21415198
Mellieħa, St Paul's Bay, Buġibba, Qawra
Brown's Pharmacy, 69, Triq George Borg Olivier, Mellieħa
21523554
Paola, Tarxien, Santa Luċija
St Monica Pharmacy, 157, Triq Santa Monika, Paola
21665848
Isla, Birgu, Bormla, Kalkara
Milia's Pharmacy, Triq il-Kottonera Birgu
27600126
Żabbar, Marsaskala, Fgura (PO)
St Peter Pharmacy, Triq is-Sebbelika, Żabbar
21663750
Birżebbuġa, Għaxaq, Żejtun, Marsaxlokk, Gudja
Brittania Pharmacy, 5 Triq il-Bajja s-Sabiħa, Birżebbuġa
21658622
Luqa, Mqabba, Żurrieq, Qrendi, Kirkop
Pasteur Pharmacy, Triq it-Tellerit, Safi
21689944
Żebbuġ, Siġġiewi
The Bypass Pharmacy, Triq Mikiel Azzoppardi, Siġġiewi
21461681
Rabat, Dingli, Mtarfa
Ideal Pharmacy, 63, Triq il-Kbira, Rabat, Malta
21455479
Rabat (Victoria), Gozo
Azzopardi Pharmacy, Triq il-Kapuċċini, Victoria, Gozo
21563233
Other localities, Gozo
Nadur Pharmacy, Pjazza it-28 t'April 1688, Nadur, Gozo
21563589
The airport pharmacy is also open from 8.00 am to 10.00 pm
Mobile Blood Donation
On Sunday 1st March 2020, the mobile blood donation unit will be available in Mediatrix Square, Żabbar and the Xewkija Auberge from 8.30 am till 1.00 pm. If you feel healthy, kindly get your ID card and donate blood.
Health Centres on Sundays and Public Holidays
The Mosta, Paola and Floriana Health Centres are open for emergencies 24/7. On Sundays and public holidays, the Gzira health centre is open for emergencies between 8.00 am and 5.00 pm, there is also a nurse service between 8.00 am and 8.00 pm. People are to visit their district health centre and are to present their identity card.