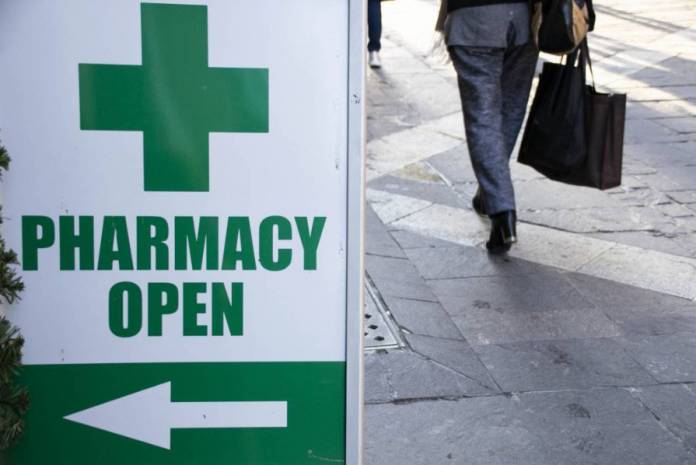 Tista' taqra bil- Malti.
Valletta, Floriana
Empire Pharmacy (Branch), 46 Triq Melita, Valletta
21225785
Ħamrun, Marsa
Trinity Pharmacy, 32 Triq il-Marsa, Marsa
21235595
Qormi, Santa Venera
Fatima Pharmacy, 82, Triq il-Ferrovija, Santa Venera
21482856
Birkirkara, Fleur-de-Lys
Marrit Pharmacy, Triq l-1 ta' Mejju, Fleur-de-Lys, Birkirkara
21488613
Gżira, Msida, Ta' Xbiex, Pietà, Gwardamanġa
Deby's Pharmacy, 1, Misraħ il-Barrieri, Msida
21227920
San Ġwann, St Julians, Swieqi, Pembroke, Ta' Giorni, L-Ibraġ
Mensija Pharmacy, 92-94, Triq il-Mensija, San Ġwann
21373275
Sliema
Edward's Pharmacy, 115, Triq Manwel Dimech, Sliema
21334102
Lija, Attard, Balzan
Balzan Pharmacy, 70, Triq San Franġisk, Balzan
21444035
Mosta, Naxxar, Għargħur, Mġarr
Sta. Margherita Pharmacy, Vjal il-Qalbiena Mostin, Santa Margherita Estate, Mosta
21416426
Mellieħa, St Paul's Bay, Buġibba, Qawra
Brown's Village Pharmacy, Triq il-Kbira, Mellieħa
21523536
Paola, Tarxien, Santa Luċija
Maddalena Pharmacy, Shop 2, Binja tal-Faqqani, Dawret it-Torri, Santa Luċija
21677037
Isla, Birgu, Bormla, Kalkara
Victory Pharmacy, 32, Triq il-Vitorja, Isla
21801698
Żabbar, Marsaskala, Fgura (PO)
Medicor Pharmacy, 57, Triq Carmelo Ritchie, Xagħjra
27032296
Birżebbuġa, Għaxaq, Żejtun, Marsaxlokk, Gudja
Medicaid Pharmacy, 62, Vjal it-Torri Gudja
21676294
Luqa, Mqabba, Żurrieq, Qrendi, Kirkop
Safi Pharmacy, St. John Street c/w Bieb il-Ġarra Street, Safi
21649552
Żebbuġ, Siġġiewi
The Bypass Pharmacy, Triq Mikiel Azzoppardi, Siġġiewi
21461681
Rabat, Dingli, Mtarfa
Ideal Pharmacy, 63, Triq il-Kbira, Rabat, Malta
21455479
Rabat (Victoria), Gozo
Abela Pharmacy, 42, Triq G.P.F. Agius De Soldanis, Victoria, Gozo
21556170
Other localities, Gozo
Vella Pharmacy, 15, Triq it-13 ta' Diċembru, Nadur, Gozo
21566431
The airport pharmacy is also open. Please check with them re: their opening hours. Tel no: 23694369.
Mobile Blood Donation
On Sunday 19th July 2020, the mobile blood donation unit will be available infront of Naxxar Parish Church and at Xewkija Berġa from 8.30 am till 1.00 pm. If you feel healthy, kindly get your ID card and donate blood.
General Practitioners Service in Health Centres on Sundays and Public Holidays
The Mosta, Paola and Floriana Health centres are open for emergencies 24 hours seven days a week. The Gzira health centre is also open for emergencies (cases requiring urgent medical attention) between 8.00 am and 5.00 pm and a nursing service is available between 8.00 am and 8.00 pm on Sundays and public holidays. The public should attend the health centre of their catchment area. Persons without an identity card will not be attended to.