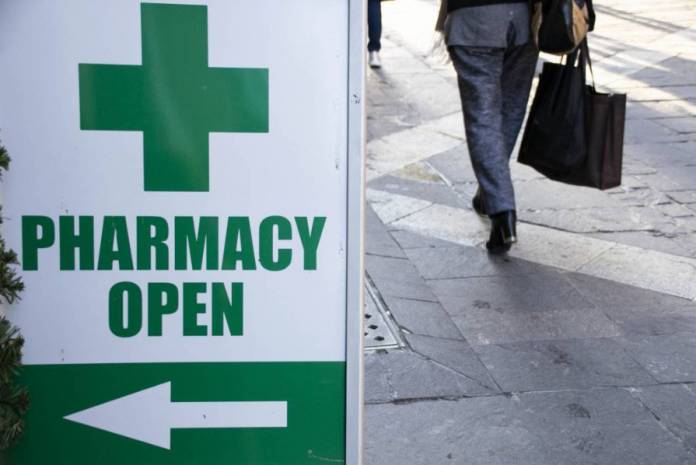 Tista' taqra bil- Malti.
Valletta, Floriana
Empire Pharmacy (Branch), 46 Triq Melita, Valletta
21225785
Ħamrun, Marsa
St Gaetan Pharmacy, Triq il-Kappillan Mifsud, Ħamrun
21234570
Qormi, Santa Venera
St George's Pharmacy, 21, Triq il-Kbira, Qormi
21443045
Birkirkara, Fleur-de-Lys
Collis Williams – St. Mark's Pharmacy, Triq P. Borg Olivier c/w Triq Gianni Vella, Swatar
21440790
Gżira, Msida, Ta' Xbiex, Pietà, Gwardamanġa
Remedies Pharmacy, 5, Tagliaferro Mansions, Triq il-Prinċipessa Margerita, Imsida
21346547
San Ġwann, St Julians, Is-Swieqi, Pembroke, Ta' Giorni, L-Ibraġ
Potter Chemists Ltd, Triq Wilga, Paceville
21363244
Sliema
Edward's Pharmacy, 115, Triq Manwel Dimech, Sliema
21334102
Lija, Attard, Balzan
St. Joseph Pharmacy, 164, Triq Annibale Preca, Lija
21414051
Mosta, Naxxar, Għargħur, Mġarr
Medicine Chest Pharamcy, Triq Demitriju Farrugia, Għargħur
21422204
Mellieħa, St Paul's Bay, Buġibba, Qawra
Parkes Pharmacy, 582, Triq San Pawl, St Paul's Bay
21571764
Paola, Tarxien, Santa Luċija
Brown's Paola Square Pharmacy, 64/65, Pjazza Antoine De Paule, Paola
21821646
Isla, Birgu, Bormla, Kalkara
Brown's Pharmacy, 8, Misraħ l-Arċisqof Gozni, Kalkara
21673811
Żabbar, Marsaskala, Fgura (PO)
May Day Pharmacy, Triq il-Vittorja, Żabbar
21826529
Birżebbuġa, Għaxaq, Żejtun, Marsaxlokk, Gudja
Blossoms Pharmacy, Triq il-Gurgier, Birżebbuġa
21652226
Luqa, Mqabba, Żurrieq, Qrendi, Kirkop
Qrendi Pharmacy, 6, Triq il-Kbira, Qrendi
21683781
Żebbuġ, Siġġiewi
De Rohan Pharmacy, Triq Sant' Antnin, Żebbuġ
21464128
Rabat, Dingli, Mtarfa
Anici Pharmacy, BLK A, Town Centre HOS, Mtarfa
21452833
Rabat (Victoria), Gozo
Batu Pharmacy, 38, Triq il-Palma, Victoria, Għawdex
21551841
Other localities, Gozo
Sokkors Pharmacy, Triq San Girgor, Kerċem
21553018
The airport pharmacy is also open. Please check with them re: their opening hours.
Mobile Blood Donation
On Sunday 19th April 2020, the mobile blood donation unit will be available next to Żejtun Parish Church square from 8.30 am till 1.00 pm. If you feel healthy, kindly get your ID card and donate blood.