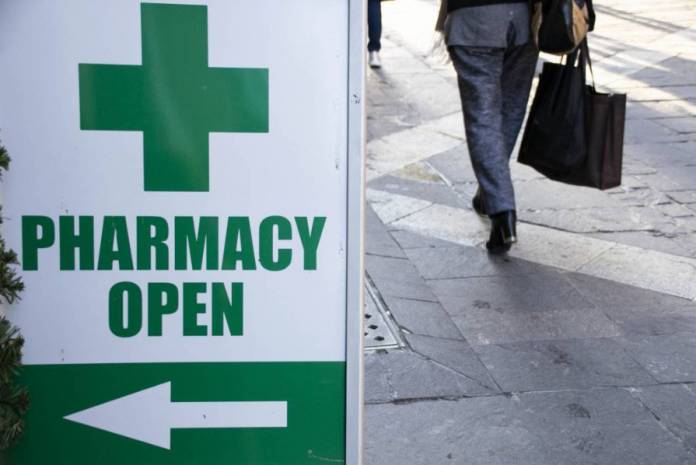 Tista' taqra bil- Malti.
Brought to you by Brown's Pharmacy
Ħamrun, Marsa
Brown's Pharmacy, 706, Triq il-Kbira San Ġużepp, Il-Ħamrun
21238623
Mellieħa, St Paul's Bay, Buġibba, Qawra
Brown's Pharmacy, 69, Triq George Borg Olivier, Mellieħa
21523554
Żebbuġ, Siġġiewi
Brown's Pharmacy, 47, Vjal il-Ħelsien, Ħaż-Żebbuġ
21465411
Valletta, Floriana
Regent Pharmacy, 70, Triq Merkanti, Valletta
21245135
Qormi, Santa Venera
Drugshop Dispensary, Vjal De La Cruz, Qormi
21443221
Birkirkara, Fleur-de-Lys
Pharmaplus, Triq Ganu, Birkirkara
21492958
Gżira, Msida, Ta' Xbiex, Pietà, Gwardamanġa
O'Hea Pharmacy, 128, Triq Manoel, Gżira
21330268
San Ġwann, St Julians, Is-Swieqi, Pembroke, Ta' Giorni, L-Ibraġ
Spiżerija Kappara, Żbibu Lane, San Ġwann
213811776
Sliema
Stella Maris Pharmacy, 34, Triq Millner, Tas-Sliema
21335217
Lija, Attard, Balzan Medica Pharmacy, Triq in-Naxxar, Balzan
21445741
Mosta, Naxxar, Għargħur, Mġarr
St Louis Pharmacy, Shop 1, Bohemian Courts, Vjal l-Indipendenza, Mosta
21432802
Paola, Tarxien, Santa Luċija
Tarxien Pharmacy, 59, Triq Ħal Tarxien, Tarxien
21802986
Isla, Birgu, Bormla, Kalkara
Verdala Pharmacy, 57, Triq il-Gendus, Bormla
21824720
Żabbar, Marsaskala, Fgura (PO)
Fgura Pharmacy, Triq il-Koppla, Fgura
21675250
Birżebbuġa, Għaxaq, Żejtun, Marsaxlokk, Gudja
Martin's Pharmacy, 182, Triq Birżebbuġa, Birżebbuġa
21651031
Luqa, Mqabba, Żurrieq, Qrendi, Kirkop
42, Vjal il-Blue Grotto iż-Żurrieq
21689971
Rabat, Dingli, Mtarfa
Ideal Pharmacy, 63, Triq il-Kbira, Rabat, Malta
21455479
Rabat (Victoria), Gozo
Castle Pharmacy, 2, Misraħ l-Indipendenza, Victoria, Gozo
21556970
Other localities, Gozo
Ta' Pinu Pharmacy, Triq Franġisk Portelli, l-Għarb, Gozo
27888128
The airport pharmacy is also open. Please check with them re: their opening hours.
Mobile Blood Donation
On Sunday 17th May 2020, the mobile blood donation unit will be available next to Qawra Parish Church from 8.30 am till 1.00 pm. If you feel healthy, kindly get your ID card and donate blood.
Brought to you by Brown's Pharmacy