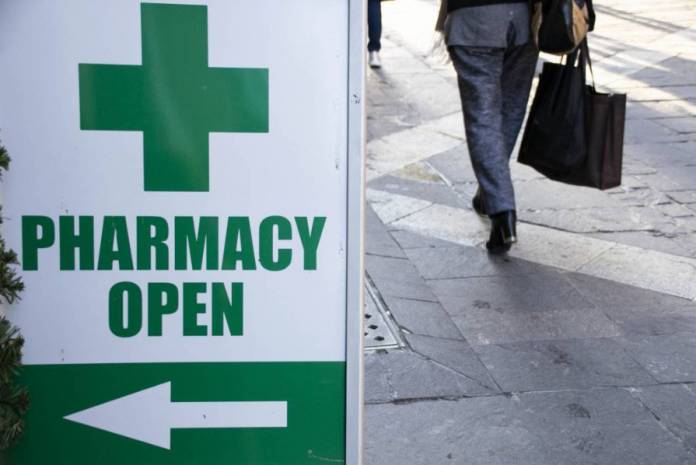 Tista' taqra bil- Malti.
Pharmacies listed to open today will extend their opening hours to the afternoon this Sunday, as concern about the spread of coronavirus increases.
Apart from opening between 9.00 am and 12.00 pm noon, pharmacies will also be open between 4.00 pm and 7.00 pm.
Valletta, Floriana
20/21, Triq ir-Repubblika, Valletta
21246051
Ħamrun, Marsa
Vivien Pharmacy, Triq Patri Magri, Marsa
21221701
Qormi, Santa Venera
Collis Williams St. Venera Pharmacy, 532, Triq il-Kbira San Ġużepp, Santa Venera
21238625
Birkirkara, Fleur-de-Lys
Brown's Pharmacy, 32, Triq Fleur-de-Lys, Birkirkara
21488884
Gżira, Msida, Ta' Xbiex, Pietà, Gwardamanġa
St Matthew's Pharmacy, Triq ix-Xatt, Gżira.
21311797
San Ġwann, St Julians, Is-Swieqi, Pembroke, Ta' Giorni, L-Ibraġ
Mensija Pharmacy, 92-94, Triq il-Mensija, San Ġwann
21373275
Sliema
Brown's Pharmacy, Unit 22, Triq Tigne, Sliema
21313233
Lija, Attard, Balzan
Il-Mehrież Pharmacy, 31, Triq Giovani Curmi, Iklin
21435567
Mosta, Naxxar, Għargħur, Mġarr
St Mary Pharmacy, Mġarr Dispensing Chemists, 71, Triq Sir Harry Luke, Mġarr Malta
21580711
Mellieħa, St Paul's Bay, Buġibba, Qawra
Remedies Pharmacy, 111, Triq George Borg Olivier, Mellieħa
21523462
Paola, Tarxien, Santa Luċija
Brown's Pharmacy, 45, Telgħet Raħal Ġdid, Paola
21694818
Isla, Birgu, Bormla, Kalkara
Victory Pharmacy, 32, Triq il-Vitorja, Isla
21801698
Żabbar, Marsaskala, Fgura (PO)
Hompesch Pharmacy, 207/2011, Triq Hompesch, Fgura
21807503
Birżebbuġa, Għaxaq, Żejtun, Marsaxlokk, Gudja
Green Cross Pharmacy, 8, Misraħ Gregorio Bonnici, Żejtun
21693723
Luqa, Mqabba, Żurrieq, Qrendi, Kirkop
Prestige Pharmacy, 16, Triq San Ġużepp, Kirkop
21641328
Żebbuġ, Siġġiewi
Plaza Pharmacy, 86, Triq il-Kbira, Żebbuġ
21467459
Rabat, Dingli, Mtarfa
Nova Pharmacy, 142, Triq il-Kulleġġ, Rabat Malta
21454274
Rabat (Victoria), Gozo
Fontana Pharmacy, Triq il-Għajn, Fontana
21566979
Other localities, Gozo
Lauretana Pharmacy, 36, Triq l-Imġarr, Għajnsielem
21563017
The airport pharmacy is also open from 8.00 am to 10.00 pm
Mobile Blood Donation
On Sunday 15th March 2020, the mobile blood donation unit will be available next to Fgura Parish Church and in Xewkija in Gozofrom 8.30 am till 1.00 pm. If you feel healthy, kindly get your ID card and donate blood.