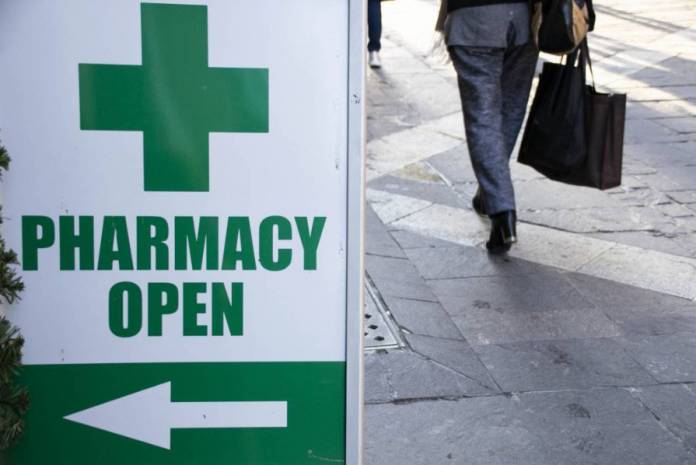 Tista' taqra bil- Malti.
Brought to you by Brown's Pharmacy
Qormi, Santa Venera
Brown's Pharmacy, 278, Triq il-Vitorja, Qormi
21499697
Paola, Tarxien, Santa Luċija
Brown's Pharmacy, 45, Telgħet Raħal Ġdid, Paola
21694818
Mosta, Naxxar, Għargħur, Mġarr
Naxxar Pharmacy, Vjal il-21 ta' Settembru, Naxxar
21411438
Valletta, Floriana
Chemimart City Gate Pharmacy, City Gate, Valletta
21238355
Ħamrun, Marsa
National Pharmacy, 17, Triq Santa Marija, Ħamrun
21225539
Birkirkara, Fleur-de-Lys
The Local Dispensary, Triq Kan. K. Pirotta, Birkirkara
21493549
Gżira, Msida, Ta' Xbiex, Pietà, Gwardamanġa
Tony's Pharmacy, 100, Triq Sir Patrick Stuart, Gżira
21332080
San Ġwann, St Julians, Swieqi, Pembroke, Ta' Giorni, L-Ibraġ
Melita Pharmacy, 127, Triq San Ġorġ, St Julians
21378657
Sliema
Chemimart Pharmacy, 4,5,6, il-Piazzetta, Triq it-Torri, Sliema
21338369
Lija, Attard, Balzan
Misraħ Kola Pharmacy, Triq il-Pitkali, Attard
21434137
Mellieħa, St Paul's Bay, Buġibba, Qawra
Qawra Pharmacy, Earl's Court/1, Triq l-Imħar, Qawra
21580881
Isla, Birgu, Bormla, Kalkara
Vittoriosa Pharmacy, 9, Triq il-Mina l-Kbira, Birgu
21807529
Żabbar, Marsaskala, Fgura (PO)
St Elias Pharmacy Triq San Elija, Xagħjra
21660300
Birżebbuġa, Għaxaq, Żejtun, Marsaxlokk, Gudja
Brittania Pharmacy, 5 Triq il-Bajja s-Sabiħa, Birżebbuġa
21658622
Luqa, Mqabba, Żurrieq, Qrendi, Kirkop
Chrysantemum Pharmacy, Triq San Nikola, Qrendi
21680828
Żebbuġ, Siġġiew
Spiżerija Ħal Mula, Triq Dun Salv Ciappara, Żebbuġ
21461693
Rabat, Dingli, Mtarfa
Ideal Pharmacy, 63, Triq il-Kbira, Rabat Malta
21455479
Rabat (Victoria), Gozo
Batu Pharmacy, 38, Triq il-Palma, Victoria, Gozo
21551841
Other localities, Gozo
Nadur Pharmacy, Pjazza it-28 t'April 1688, in-Nadur Għawdex
21563589
The airport pharmacy is also open. Please check with them re: their opening hours.
Mobile Blood Donation
On Sunday 14th June 2020, the mobile blood donation unit will be available in Attard Parish Centre and at Xewkija Berġa from 8.30 am till 1.00 pm. If you feel healthy, kindly get your ID card and donate blood.
General Practitioners Service in Health Centres on Sundays and Public Holidays
The Mosta, Paola and Floriana Health centres are open for emergencies 24 hours seven days a week. The Gzira health centre is also open for emergencies (cases requiring urgent medical attention) between 8.00 am and 5.00 pm and a nursing service is available between 8.00 am and 8.00 pm on Sundays and public holidays. The public should attend the health centre of their catchment area. Persons without an identity card will not be attended to.
Brought to you by Brown's Pharmacy