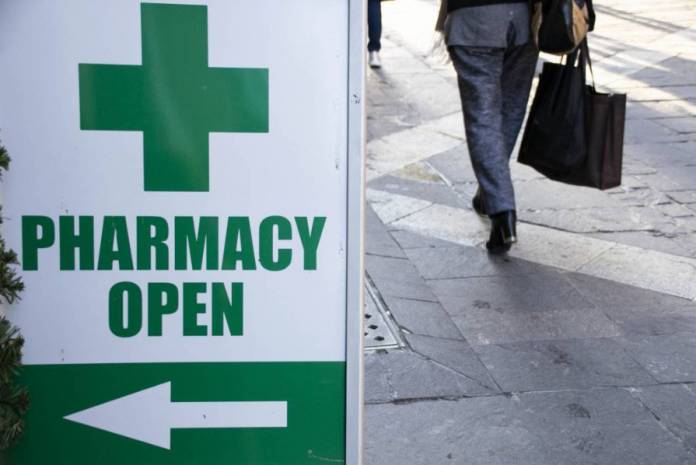 Tista' taqra bil- Malti.
Valletta, Floriana
Chemimart Pharmacy, 14, Triq Sant'Anna, Floriana
21239310
Ħamrun, Marsa
Lister Pharmacy, 678, Triq il-Kbira San Ġużepp, Ħamrun
21245627
Qormi, Santa Venera
Tal-Ħlas Pharmacy, Triq il-Ħelsien, Qormi
21487739
Birkirkara, Fleur-de-Lys
Brown's Pharmacy, 32, Triq Fleur-de-Lys, Birkirkara
21488884
Gżira, Msida, Ta' Xbiex, Pietà, Gwardamanġa
Charing Pharmacy, Triq il-Mimosa, Pietà
21232954
San Ġwann, St Julians, Swieqi, Pembroke, Ta' Giorni, L-Ibraġ
Pembroke Pharmacy, 87, Triq Giuseppe Malfeggiani, Pembroke
21372784
Sliema
Victor's Pharmacy, 9, Triq it-Torri, Sliema
21330352
Lija, Attard, Balzan
St Mary Pharmacy, 2, Triq Antonio Schembri, Attard
21436348
Mosta, Naxxar, Għargħur, Mġarr
Sgħajtar Pharmacy, Triq is-Sagħjtar, Mosta
21415198
Mellieħa, St Paul's Bay, Buġibba, Qawra
St Simon Pharmacy, 8, Dawret il-Gżejjer, Buġibba
21571649
Paola, Tarxien, Santa Luċija
Brown's Paola Square Pharmacy, 64/65, Pjazza Antoine De Paule, Paola
21821646
Isla, Birgu, Bormla, Kalkara
Milia's Pharmacy, Triq il-Kottonera, Birgu
27600126
Żabbar, Marsaskala, Fgura (PO)
Hompesch Pharmacy, 207/2011, Triq Hompesch, Fgura
21807503
Birżebbuġa, Għaxaq, Żejtun, Marsaxlokk, Gudja
St Catherine Pharmacy, Plot 3, Triq il-Qadi, Żejtun
21678039
Luqa, Mqabba, Żurrieq, Qrendi, Kirkop
Bronja Pharmacy, Sonata, Triq il-Bronja, Żurrieq
21682251
Żebbuġ, Siġġiewi
Tal-Grazzja Pharmacy, Triq Franġisk Farrugia, Żebbuġ
21462068
Rabat, Dingli, Mtarfa
Spiżerija Carmen, 1, Triq Misraħ is-Suffara, Dingli
21457128
Rabat (Victoria), Gozo
Castle Pharmacy, 2, Misraħ l-Indipendenza, Victoria, Gozo
21556970
Other localities, Gozo
St. Joseph Pharmacy, 28, Pjazza San Ġużepp, Qala, Gozo
21555348
The airport pharmacy is also open. Please check with them re: their opening hours. Tel no: 23694369.
Mobile Blood Donation
On Sunday 12th July 2020, the mobile blood donation unit will be available in Mediatrix Square, next to Żabbar Parish Church from 8.30 am till 1.00 pm. If you feel healthy, kindly get your ID card and donate blood.
General Practitioners Service in Health Centres on Sundays and Public Holidays
The Mosta, Paola and Floriana Health centres are open for emergencies 24 hours seven days a week. The Gzira health centre is also open for emergencies (cases requiring urgent medical attention) between 8.00 am and 5.00 pm and a nursing service is available between 8.00 am and 8.00 pm on Sundays and public holidays. The public should attend the health centre of their catchment area. Persons without an identity card will not be attended to.