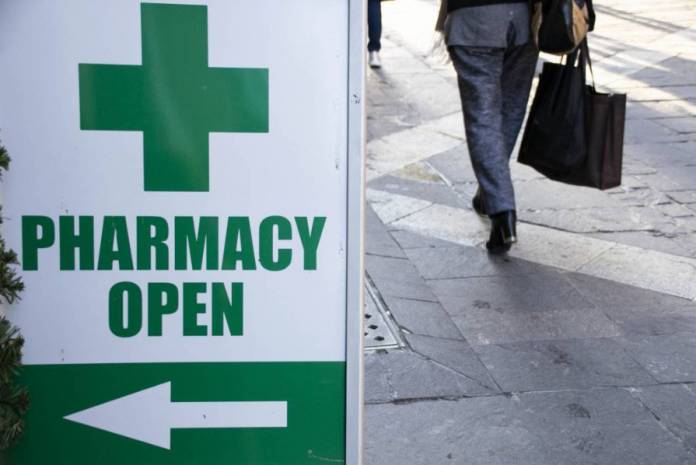 Valletta, Floriana
Chemimart City Gate Pharmacy, City Gate, Valletta
21238355
Ħamrun, Marsa
St. Gaetan Pharmacy, Triq il-Kappillan Mifsud, Ħamrun
21234570
Qormi, Santa Venera
Lantern Pharmacy, Misraħ il-Kebbies, Santa Venera
21444648
Birkirkara, Fleur-de-Lys
St Jude Pharmacy, 213, Triq il-Wied, Birkirkara
21492151
Gżira, Msida, Ta' Xbiex, Pietà, Gwardamanġa
O'Hea Pharmacy, 128, Triq Manoel, Gżira
21330268
San Ġwann, St Julians, Is-Swieqi, Pembroke, Ta' Giorni, L-Ibraġ
Spiżerija Kappara, Żbibu Lane, San Ġwann
213811776
Sliema
Harley Pharmacy, 1, Triq Nathalie Poutiatin Tabone, Tas-Sliema
21334635
Lija, Attard, Balzan
M4 Pharmacy, Triq il-Linja, Attard
21436531
Mosta, Naxxar, Għargħur, Mġarr
Sgħajtar Pharmacy, Triq is-Sagħjtar, Mosta
21415198
Mellieħa, St Paul's Bay, Buġibba, Qawra
El Medina Chemist, Triq il-Maskli, Qawra
21576308
Paola, Tarxien, Santa Luċija
Brown's Paola Square Pharmacy, 64/65, Pjazza Antoine De Paule, Paola
21821646
Isla, Birgu, Bormla, Kalkara, Fgura (PO)
Alpha Pharmacy, Triq Bormla k.m Vjal il-Kottoner, Fgura
21673811
Żabbar, Marsaskala, Fgura (PO)
St. James Pharmacy, Misraħ San Ġakbu, Żabbar
21666194
Birżebbuġa, Għaxaq, Żejtun, Marsaxlokk, Gudja
Brittania Pharmacy, 5 Triq il-Bajja s-Sabiħa, Birżebbuġa
21658622
Luqa, Mqabba, Żurrieq, Qrendi, Kirkop
Kristianne Pharmacy, Triq ic-Cavi, Mqabba
21683048
Żebbuġ, Siġġiewi
De Rohan Pharmacy, Triq Sant' Antnin, Ħaż-Żebbuġ
21464128
Rabat, Dingli, Mtarfa
Ideal Pharmacy, 63, Triq il-Kbira, Rabat. Malta
21455479
Rabat (Victoria), Gozo
Castle Pharmacy, 2, Misraħ l-Indipendenza, Victoria, Gozo
21556970
Other localities, Gozo
Nadur Pharmacy, Pjazza it-28 t'April 1688, Nadur, Gozo
21563589
The airport pharmacy is also open. Please check with them re: their opening hours.
Mobile Blood Donation
On Sunday 12th April 2020, the mobile blood donation unit will be available in 16th September Square, Mosta (market place) and Xewkija Berġa from 8.30 am till 1.00 pm. If you feel healthy, kindly get your ID card and donate blood.