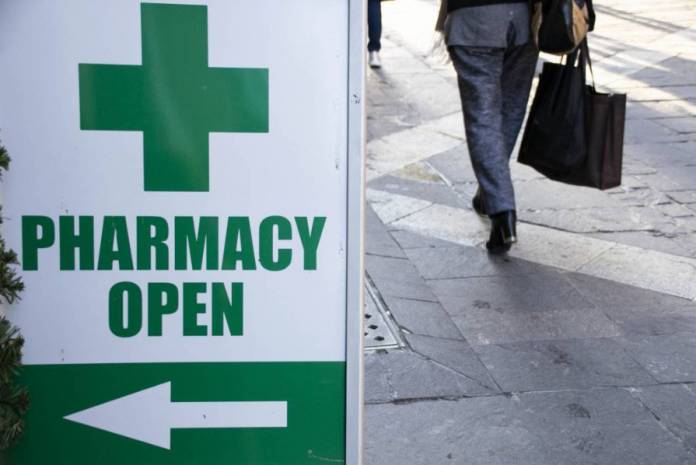 Tista' taqra bil- Malti.
Brought to you by Brown's Pharmacy
Valletta, Floriana
Floriana Dispensary,29, Triq Vincenzo Dimech, Floriana
21233034
Ħamrun, Marsa
Chemimart International Pharmacy, 650, Triq il-Kbira San Ġużepp, Il-Ħamrun
21236477
Qormi, Santa Venera
Anici Pharmacy, Triq Anici, Qormi
21487162
Birkirkara, Fleur-de-Lys
Mackie's Pharmacy, Triq L. Casolani, Ta' Paris, Birkirkara
21496089
Gżira, Msida, Ta' Xbiex, Pietà, Gwardamanġa
Mayer Pharmacy, 33, Ix-Xatt ta' Xbiex, Msida
21331732
San Ġwann, St Julians, Is-Swieqi, Pembroke, Ta' Giorni, L-Ibraġ
San Giorgio Pharmacy, Triq Manwel Buhagiar, Pembroke
21378485
Sliema
Remedies Pharmacy, 144, Triq Manwel Dimech, Tas-Sliema
21344722
Lija, Attard, Balzan
M4 Pharmacy, Triq il-Linja, Attard
21436531
Mosta, Naxxar, Għargħur, Mġarr
St Mary Pharmacy, 14, Pjazza Rotunda, Mosta
21433833
Mellieħa, St Paul's Bay, Buġibba, Qawra
Promenade Pharmacy, Triq il-Korp tal-Pijunieri, Buġibba
27441160
Paola, Tarxien, Santa Luċija
Theresa Jo Pharmacy, 3A, Triq Xintill, Tarxien
21672703
Isla, Birgu, Bormla, Kalkara
Milia's Pharmacy, Triq il-Kottonera, Birgu
27600126
Żabbar, Marsaskala, Fgura (PO)
Cilia's Pharmacy, 303, Triq Ħaż-Żabbar, il-Fgura
21801962
Birżebbuġa, Għaxaq, Żejtun, Marsaxlokk, Gudja
Beta Pharmacy, 50/52, Triq Santa Marija, Għaxaq
21663311
Luqa, Mqabba, Żurrieq, Qrendi, Kirkop
Kristianne Pharmacy, Triq Pietru Pawl Saydon, iż-Żurrieq
21647391
Żebbuġ, Siġġiewi
The Bypass Pharmacy, Triq Mikiel Azzoppardi, Siġġiewi
21461681
Rabat, Dingli, Mtarfa
Santa Marija Pharmacy, Misraħ Frenċ Abela, Dingli
21452447
Rabat (Victoria), Gozo
Fontana Pharmacy, Triq il-Għajn, Fontana, Gozo
21566979
Other localities, Gozo
Għajnsielem Pharmacy, Pjazza Indipendenza, Għajnsielem, Gozo
27203615
The airport pharmacy is also open. Please check with them re: their opening hours.
Mobile Blood Donation
On Sunday 10th May 2020, the mobile blood donation unit will be available in next to Ħaż-Żebbuġ Parish Church and Xewkija Berġa from 8.30 am till 1.00 pm. If you feel healthy, kindly get your ID card and donate blood.
Brought to you by Brown's Pharmacy