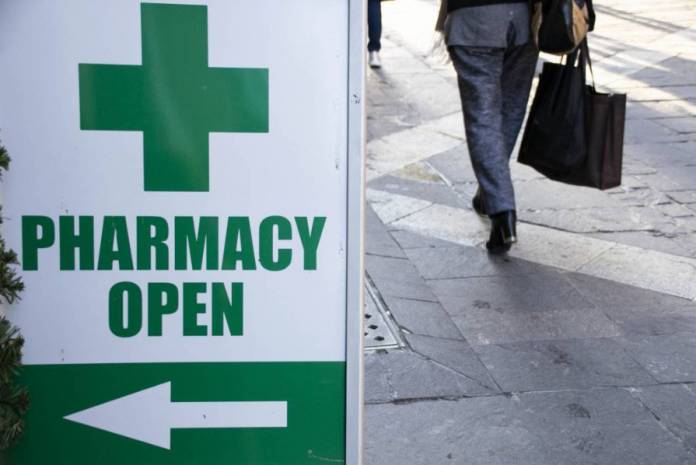 Tista' taqra bil- Malti.
Valletta, Floriana
Vilhena Pharmacy, 3, Triq Sant' Anna, Floriana
21244114
Ħamrun, Marsa
Thomas' Pharmacy, 796, Triq il-Kbira San Ġużepp, Ħamrun
21238018
Qormi, Santa Venera
Evans Pharmacy, 96/98, Triq San Bastjan, Qormi
21487020
Birkirkara, Fleur-de-Lys
Marrit Pharmacy, Triq l-1 ta' Mejju, Fleur-de-Lys, Birkirkara
21488613
Gżira, Msida, Ta' Xbiex, Pietà, Gwardamanġa
D'Argen's Pharmacy, 330, Triq D'Argens, Gżira
21330817
San Ġwann, St Julians, Swieqi, Pembroke, Ta' Giorni, L-Ibraġ
San Ġwann Pharmacy, 11, Triq Feliċ Borġ, San Ġwann
21386974
Sliema
Edward's Pharmacy, 115, Triq Manwel Dimech, Sliema
21334102
Lija, Attard, Balzan
Medica Pharmacy, Triq in-Naxxar, Balzan
21445741
Mosta, Naxxar, Għargħur, Mġarr
St Louis Pharmacy, Shop 1, Bohemian Courts, Vjal l-Indipendenza, Mosta
21432802
Mellieħa, St Paul's Bay, Buġibba, Qawra
Euro Chemist, Triq il-Kurazza, Qawra
21581876
Paola, Tarxien, Santa Luċija
Sonren Pharmacy, Triq iż-Żejtun, Tarxien
21672757
Isla, Birgu, Bormla, Kalkara
Victory Pharmacy, 32, Triq il-Vitorja, Isla (Senglea)
21801698
Żabbar, Marsaskala, Fgura (PO)
Fgura Pharmacy, Triq il-Koppla, Fgura
21675250
Birżebbuġa, Għaxaq, Żejtun, Marsaxlokk, Gudja
Beta Pharmacy, 50/52, Triq Santa Marija, Għaxaq
21663311
Luqa, Mqabba, Żurrieq, Qrendi, Kirkop
Kristianne Pharmacy, Triq Pietru Pawl Saydon, Żurrieq
21647391
Żebbuġ, Siġġiewi
Brown's Pharmacy, 47, Vjal il-Ħelsien, Żebbuġ
21465411
Rabat, Dingli, Mtarfa
Spiżerija Carmen, 1, Triq Misraħ is-Suffara, Dingli
21457128
Rabat (Victoria), Gozo
Taċ-Ċawla Pharmacy, Triq 7 ta' Ġunju 1919, Victoria, Gozo
21557819
Other localities, Gozo
Vella Pharmacy, 15, Triq it-13 ta' Diċembru, in-Nadur, Gozo
21566431
The airport pharmacy is also open. Please check with them re: their opening hours. Tel no: 23694369.
Mobile Blood Donation
On Saturday 15th August 2020, the mobile blood donation unit will be available next to Mġarr Parish Church, from 8.30 am till 1.00 pm. If you feel healthy, kindly get your ID card and donate blood.
General Practitioners Service in Health Centres on Sundays and Public Holidays
The Mosta, Paola and Floriana Health centres are open for emergencies 24 hours seven days a week. The Gzira health centre is also open for emergencies (cases requiring urgent medical attention) between 8.00 am and 5.00 pm and a nursing service is available between 8.00 am and 8.00 pm on Sundays and public holidays. The public should attend the health centre of their catchment area. Persons without an identity card will not be attended to.