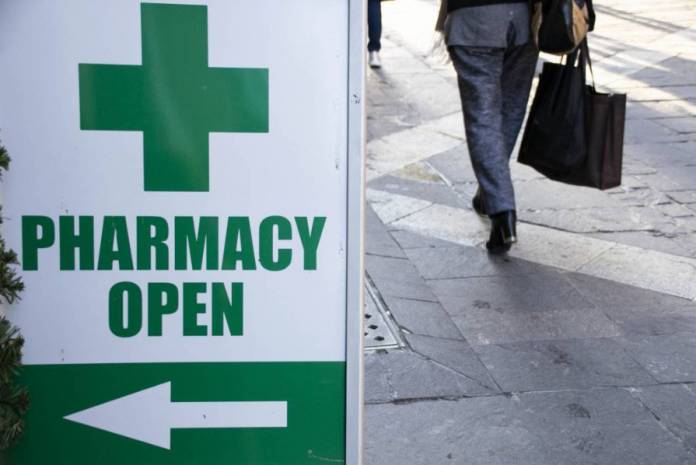 Tista' taqra bil- Malti.
Valletta, Floriana
Regent Pharmacy, 70, Triq Merkanti, Valletta
21245135
Ħamrun, Marsa
Darwin Pharmacy, 152, Triq il-Kbira San Ġużepp, Ħamrun
21221512
Qormi, Santa Venera
Brown's Pharmacy, 278, Triq il-Vitorja, Qormi
21499697
Birkirkara, Fleur-de-Lys
Herba Pharmacy, 183, Triq il-Kbira, Birkirkara
21443406
Gżira, Msida, Ta' Xbiex, Pietà, Gwardamanġa
Charing Pharmacy, Triq il-Mimosa, Pietà
21232954
San Ġwann, St Julians, Swieqi, Pembroke, Ta' Giorni, L-Ibraġ
J.V.'s Pharmacy, Wied is-Swieqi, Swieqi
21371062
Sliema
Norman's Pharmacy, 133, Triq il-Kbira, Sliema
21332243
Lija, Attard, Balzan
Balzan Pharmacy, 70, Triq San Franġisk, Balzan
21444035
Mosta, Naxxar, Għargħur, Mġarr
Brown's Chemists, Triq San Pawl, Naxxar
21417652
Mellieħa, St Paul's Bay, Buġibba, Qawra
Remedies Pharmacy, 111, Triq George Borg Olivier, Mellieħa
21523462
Paola, Tarxien, Santa Luċija
Sta. Lucia Pharmacy, 1, Misraħ Dorell, Santa Luċija
21890111
Isla, Birgu, Bormla, Kalkara
Verdala Pharmacy, 57, Triq il-Gendus, Bormla
21824720
Żabbar, Marsaskala, Fgura (PO)
Bellavista Pharmacy, 88 Triq il-Hortan, Marsaskala
21633788
Birżebbuġa, Għaxaq, Żejtun, Marsaxlokk, Gudja
Gerada Pharmacy, 146, Triq Mater Boni Cosniglii, Żejtun
21806009
Luqa, Mqabba, Żurrieq, Qrendi, Kirkop
Salus Pharmacy, 21, Misraħ ir-Republika, Żurrieq
21680761
Żebbuġ, Siġġiewi
The Bypass Pharmacy, Triq Mikiel Azzoppardi, Siġġiewi
21461681
Rabat, Dingli, Mtarfa
Anici Pharmacy, BLK A, Town Centre HOS, Mtarfa
21452833
Rabat (Victoria), Gozo
Batu Pharmacy, 38, Triq il-Palma, Victoria, Gozo
21551841
Other localities, Gozo
St Joseph Pharmacy, 28, Pjazza San Ġużepp, Qala, Gozo
21555348
The airport pharmacy is also open. Please check with them re: their opening hours.
Mobile Blood Donation
On Monday 29th June 2020, the mobile blood donation unit will be available in Gregorio Bonnici Square, Żejtun and at Xewkija Berġa from 8.30 am till 1.00 pm. If you feel healthy, kindly get your ID card and donate blood.
General Practitioners Service in Health Centres on Sundays and Public Holidays
The Mosta, Paola and Floriana Health centres are open for emergencies 24 hours seven days a week. The Gzira health centre is also open for emergencies (cases requiring urgent medical attention) between 8.00 am and 5.00 pm and a nursing service is available between 8.00 am and 8.00 pm on Sundays and public holidays. The public should attend the health centre of their catchment area. Persons without an identity card will not be attended to.