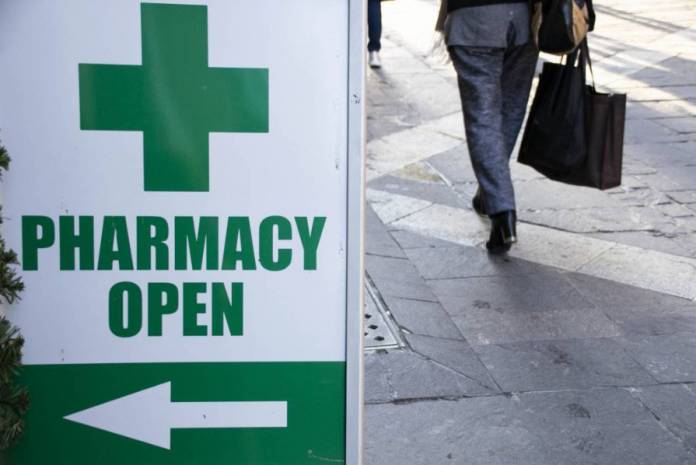 Tista' taqra bil- Malti.
Brought to you by Brown's Pharmacy
San Ġwann, St Julians, Is-Swieqi, Pembroke, Ta' Giorni, Ibraġ
Ta' Giorni Pharmacy, Shop 2, Triq Lapsi, Ta' Giorni
21333886
Valletta, Floriana
Chemimart Pharmacy, 14, Triq Sant'Anna, Floriana
21239310
Ħamrun, Marsa
Cosmed Pharmacy, Soccors, 7 Triq il-Franġiskani fi Triq Villambrosa, Ħamrun
21225991
Qormi, Santa Venera
Anici Pharmacy, Triq Anici, Qormi
21487162
Birkirkara, Fleur-de-Lys
Rational Pharmacy, 74/75, Triq il-Wied, Birkirkara
21441513
Gżira, Msida, Ta' Xbiex, Pietà, Gwardamanġa
Tony's Pharmacy, 100, Triq Sir Patrick Stuart, Ġżira
21332080
Sliema
Mrabat Pharmacy, Triq l-Imrabat, Sliema
21313535
Lija, Attard, Balzan
Misraħ Kola Pharmacy, Triq il-Pitkali, Attard
21434137
Mosta, Naxxar, Għargħur, Mġarr
Smiths Pama Pharmacy, 1, Triq iż-Żakkak, Mosta
21417593
Mellieħa, St Paul's Bay, Buġibba, Qawra
St Simon Pharmacy, 8, Dawret il-Gżejjer, Buġibba
27441160
Paola, Tarxien, Santa Luċija
Tarxien Pharmacy, 59, Triq Ħal Tarxien, Tarxien
21802986
Isla, Birgu, Bormla, Kalkara
Milia's Pharmacy, Triq il-Kottonera, Birgu
27600126
Żabbar, Marsaskala, Fgura (PO)
Felice Pharmacy, 95, Triq is-Santwarju, Żabbar
21827939
Birżebbuġa, Għaxaq, Żejtun, Marsaxlokk, Gudja
St Philip Pharmacy, Triq iċ-Ċeppun, Għaxaq
21808723
Luqa, Mqabba, Żurrieq, Qrendi, Kirkop
Qrendi Pharmacy, 6, Triq il-Kbira, Qrendi
21683781
Żebbuġ, Siġġiewi
Menelo Pharmacy, Triq it-Tabib Nikol Zammit. Siġġiewi.
21462957
Rabat, Dingli, Mtarfa
Imtarfa Pharmacy, 207 Triq San David, Mtarfa
21451261
Rabat (Victoria), Gozo
Abela Pharmacy, 42, Triq G.P.F. Agius De Soldanis, Victoria, Gozo
21556170
Other localities, Gozo
Lauretana Pharmacy, 36, Triq l-Imġarr, Għajnsielem, Gozo
21563017
The airport pharmacy is also open. Please check with them re: their opening hours.
Mobile Blood Donation
On Friday 1st May 2020, the mobile blood donation unit will be in Siġġiewi Parish Church square from 8.30 am till 1.00 pm. If you feel healthy, kindly get your ID card and donate blood.
Brought to you by Brown's Pharmacy