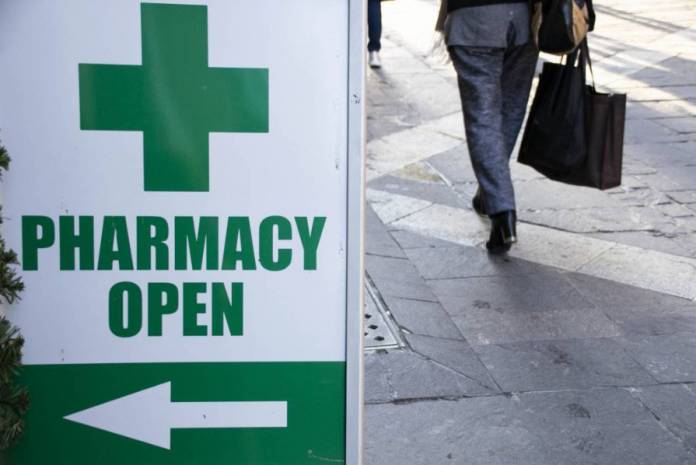 Valletta, Floriana
Collis Williams Pharmacy, 15, Triq ir-Repubblika, Valletta
21226281
Ħamrun, Marsa
Lister Pharmacy, 678, Triq il-Kbira San Ġużepp, Ħamrun
21245627
Qormi, Santa Venera
Evans Pharmacy, 96/98, Triq San Bastjan, Qormi
21487020
Birkirkara, Fleur-de-Lys
Collis Williams – St. Mark's Pharmacy, Triq P. Borg Olivier c/w Triq Gianni Vella, Swatar
21440790
Gżira, Msida, Ta' Xbiex, Pietà, Gwardamanġa
Brown's Pharmacy, Shop 10, Yacht Marina Apartments, Triq il-Marina, l-Msida
21244366
San Ġwann, St Julians, Is-Swieqi, Pembroke, Ta' Giorni, L-Ibraġ
Krypton Chemists, Triq l-Ibraġġ, Tal-Ibraġġ
21370141
Sliema
Victor's Pharmacy, 9, Triq it-Torri, Tas-Sliema
21330352
Lija, Attard, Balzan
St Mary Pharmacy, 2, Triq Antonio Schembri, Attard
21436348
Mosta, Naxxar, Għargħur, Mġarr
Rotunda Pharmacy, 7, Triq il-Kungress Ewkaristiku, Mosta
21411197
Mellieħa, St Paul's Bay, Buġibba, Qawra
Qawra Pharmacy, Earl's Court/1, Triq l-Imħar, Qawra
21580881
Paola, Tarxien, Santa Luċija
Brown's Pharmacy, 45, Telgħet Raħal Ġdid, Paola
21694818
Isla, Birgu, Bormla, Kalkara
Brown's Pharmacy, 8, Misraħ l-Arċisqof Gozni, il-Kalkara
21673811
Żabbar, Marsaskala, Fgura (PO)
St Anne Pharmacy, Triq il-Qaliet, Marsaskala
21637615
Birżebbuġa, Għaxaq, Żejtun, Marsaxlokk, Gudja
Martin's Pharmacy, 182, Triq Birżebbuġa, Birżebbuġa
21651031
Luqa, Mqabba, Żurrieq, Qrendi, Kirkop
Safi Pharmacy, St. John Street c/w Bieb il-Ġarra Street, Safi
21649552
Żebbuġ, Siġġiewi
Remedies Pharmacy, Peter Pan, Triq Nikola Zammit, Siġġiewi
21460828
Rabat, Dingli, Mtarfa
Nova Pharmacy, 142, Triq il-Kulleġġ, Rabat, Malta
21454274
Rabat (Victoria), Gozo
Fontana Pharmacy, Triq il-Għajn, Fontana, Gozo
21566979
Other localities, Gozo
St John Pharmacy, 85, Triq l-Indipendenza, Xewkija, Gozo
21563052
The airport pharmacy is also open. Please check with them re: their opening hours.
Mobile Blood Donation
On Friday 10th April 2020, the mobile blood donation unit will be available next to Divine Mercy Church Naxxar from 8.30 am till 1.00 pm. If you feel healthy, kindly get your ID card and donate blood.