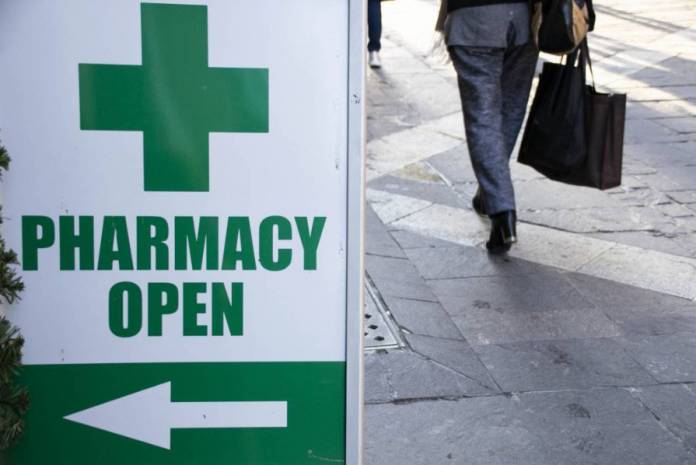 Tista' taqra bil- Malti.
Valletta, Floriana
Empire Pharmacy, 77, Triq it-Teatru l-Antik, Il-Belt Valletta
21225785
Ħamrun, Marsa
The Cross Pharmacy, 859, Triq il-Kbira San Ġużepp, il-Ħamrun
21227682
Qormi, Santa Venera
Drugshop Dispensary, Vjal De La Cruz, Ħal Qormi
21443221
Birkirkara, Fleur-de-Lys
St. Paul's, Triq Brared, Birkirkara
21442135
Gżira, Msida, Ta' Xbiex, Pietà, Gwardamanġa
Regal Pharmcay, 39B, Triq Antonio Bosio, L-Imsida
21313115
San Ġwann, St Julians, Swieqi, Pembroke, Ta' Giorni, L-Ibraġ
Medical Plaza Dispensing Chemists, Cass-i-Mall Buildings, Vjal ir-Rihan, San Ġwann
21372195
Sliema
Norman's Pharmacy, 133, Triq il-Kbira, Tas-Sliema
21332243
Lija, Attard, Balzan
Medica Pharmacy, Triq in-Naxxar, Ħal Balzan
21445741
Mosta, Naxxar, Għargħur, Mġarr
Medicine Chest Pharamcy, Triq Demitriju Farrugia, il-Għargħur.
21422204
Mellieħa, St Paul's Bay, Buġibba, Qawra
Brown's Pharmacy, 69, Triq George Borg Olivier, il-Mellieħa
21523554
Paola, Tarxien, Santa Luċija
Maddalena Pharmacy, Shop 2, Binja tal-Faqqani, Dawret it-Torri, Santa Luċija
21677037
Isla, Birgu, Bormla, Kalkara
Milia's Pharmacy, Triq il-Kottonera Birgu
27600126
Żabbar, Marsaskala, Fgura (PO)
Fgura Pharmacy, Triq il-Koppla, Fgura
21675250
Birżebbuġa, Għaxaq, Żejtun, Marsaxlokk, Gudja
Pompei Pharmacy, Xatt is-Sajjieda, Marsaxlokk
21651278
Luqa, Mqabba, Żurrieq, Qrendi, Kirkop
St. Andrew's Pharmacy, 25, Triq Dun Pawl, Ħal Luqa
21820795
Żebbuġ, Siġġiewi
Spiżerija Ħal Mula, Triq Dun Salv Ciappara, Ħaż-Żebbuġ
21461693
Rabat, Dingli, Mtarfa
Ideal Pharmacy, 63, Triq il-Kbira, Rabat Malta
21455479
Rabat (Victoria), Gozo
Palm Pharmacy, 2, Triq il-Palma, Victoria, Gozo
21566170
Other localities, Gozo
Tony's Pharmacy, "Egret Court", Triq il-Wied, Marsalforn Għawdex
21563617
The airport pharmacy is also open. Please check re: opening hours. Tel no: 23694369.
Mobile Blood Donation
On Sunday 27 December 2020, the mobile blood donation unit will be available next to Dingli Parish Church from 8:30am till 1:00pm. If you feel healthy, kindly get your ID card and donate blood.
General Practitioners Service in Health Centres on Sundays and Public Holidays
The Mosta, Paola and Floriana Health centres are open for emergencies 24 hours seven days a week. The Gzira health centre is also open for emergencies (cases requiring urgent medical attention) between 8.00 am and 5.00 pm and a nursing service is available between 8.00 am and 8.00 pm on Sundays and public holidays. The public should attend the health centre of their catchment area. Persons without an identity card will not be attended to.