Tista' taqra bil- Malti.
A €10,000 fine will be imposed on patients who have tested positive to coronavirus and are not found at their residence by the officers carrying out inspections. The new fine was announced in the government bulletin issued every evening with the latest updates on Covid-19 in Malta.
On Monday afternoon Superintendent of Public Health Professor Charmaine Gauci announced 17 new patients have tested positive to coronavirus bringing up the number to 107. Some of those receiving treatment have not been admitted to hospital but are required to stay in self-isolation under medical observation. Two individuals have recovered since the first case was recorded in Malta. One individual, a 61-year-old man was placed in intensive care after developing pneumonia.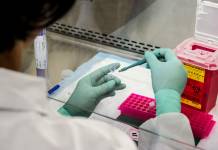 At present individuals requested to follow mandatory quarantine are fined €3,000 for every time they are not found at home. A new legal notice which is set to be published will introduce a new fine of €10,000 for persons testing positive for the coronavirus who do not respect isolation obligations.
"Responsibility is necessary in order for our country to fight the spread of Covid-19."
303 inspections were carried in Malta over the past 24 hours while 28 inspections were carried out on Gozo. Only one person was caught breaching mandatory quarantine rules.
To date the health authorities have carried out 2,106 tests in the community and 993 random tests.
As from Monday 23 March, shops offering non-essential services were closed down. Restaurants are allowed to offer deliveries and takeaways. The list of shops ordered to remain closed include those whose primary business is that of clothing, sportswear, jewellery, handbags and leather products, costume jewellery and accessories, shoes, non-prescription glasses, perfumes, beauty products, drapery, curtains and upholstery, domestic appliances, souvenirs, discount shops, luggage shops, toy shops, hobby shops, furniture shops, plants/flowers and vaping shops. Hairdressers, barbers, beauty shops, spas, nail technicians, and tattoo parlours were also prohibited from opening.
On Sunday over a thousand inspections were carried out in Malta and Gozo, however no establishment was caught in breach of the ban. So far, around 3,400 inspections have been carried out.
Food and drinking establishments, cinemas, and others kept observing the measures introduced to keep them closed in order to prevent the further spread of the coronavirus. Yesterday, over a thousand inspections were carried out in Malta and Gozo, but no establishment was caught being open for business.
Government helplines
111 – For those who feel symptoms of COVID-19 or who wish further information
22042200 – For Maltese residents who were caught in one of the high-risk countries and wish to return to Malta
21411411 – For those in mandatory quarantine who require provisions of food and medicine
144 – For those who require information about the financial package for industries, businesses, and the self-employed
25981000 – For those who have questions about the educational sector and the impact of the coronavirus
21692447 – For hoteliers and tourists who have questions about the announced measures
225903030 – For elderly persons bereft of support who need medicines, ready-made meals or food products (fruit and vegetables)
25469111 – For those who work in the gaming industry.
If you want to be the first to receive the latest news on the coronavirus in Malta, download the Newsbook APP here.