Unemployment in November 2020 was at 13,081. A raise of 1.2 % when compared to the same period in the previous year. This comes out from the National Statistics Office unemployment rate report for November 2020.
According to the figures presented by the NSO this translates in a rise of 3,249 persons registering for work.
These numbers are divided 3,365 individuals between the age of 15 to 24 and 9,716 individuals from the age of 25 to 74 years.
The report shows that out of the 13,081 unemployed persons 7,723 were male while females totalled 5,357.
Since April, a spike in unemployment could be noticed. This relates with the first Covid-19 wave. The unemployment figures registered in November are the highest in the past three years.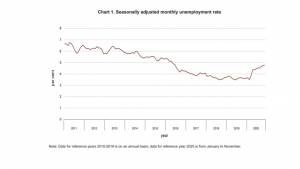 The seasonally adjusted monthly unemployment rate follows the Labour Force Survey, predictions of reaching 4.6% – or an estimated 12,589 people.
In December the LFS, published by the National Statistics Office covering the third quarter of the year, suggests that the unemployment would be 4.4%.