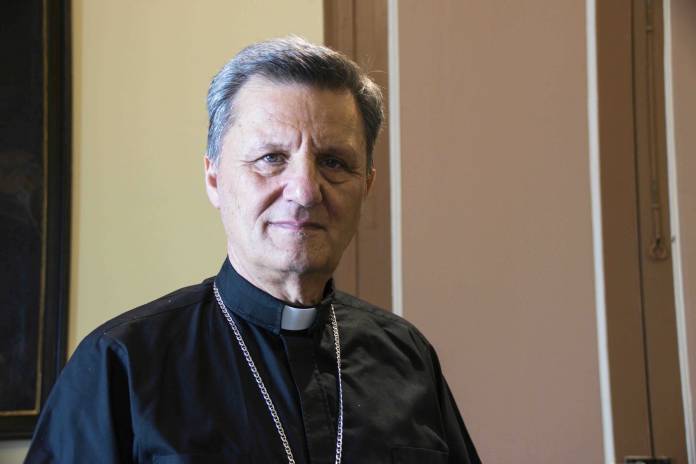 Tista' taqra bil- Malti.
Gozo Bishop Mario Grech decried the loss of value people were placing on their word and an increasing use of lies as he celebrated Mass on the Assumption of the Blessed Virgin Mary on Saturday.
Bishop Grech was celebrating Mass at the Gozo Cathedral, itself dedicated to the Assumption, and recalled the opening of the Gospel of John – "In the beginning was the Word, and the Word was with God, and the Word Was God." But he lamented that humans were passing through a turbulent time because the word – including the word of God – had lost its meaning.
"The Word of God has lost its meaning for us humans, and men have emptied their words of every meaning; therefore our words have become meaningless," he said.
"We cannot be in a bigger crisis, because when man loses his word, he has lost his sense of limit, his rights, his duties, even his sense of dignity," the Bishop maintained. "When the word is weakened, it becomes less clear and precise and becomes 'fluid,' many other things are weakened: we begin to confuse who man is, what value human life has, what family is, what the common good and so on."
Though once upon a time, someone's word meant commitment, Bishop Grech went on, one is now left wondering at length whether to trust anyone's word. And social media has not helped, as "it has allowed man to invent not only what is called fake news but also low and obscene words, insults, slander, aggressive and violent words."
Lying as a tool
Lying, the Bishop said, had become a key part of the agenda, with some using lies to defend themselves, and even as a tool of war: as part of one's strategy to break someone else.
"Man knows that deception is a powerful weapon that decays and destroys individuals, families, groups and society," Bishop Grech maintained, observing that society could now be described as a "post-truth society," in which public opinion did not rely on objective fact but on emotion. Truth, therefore, has become of secondary importance, if not outright irrelevant.
Bishop Grech also warned about "negative lies:" one's failure to defend the truth, and thus effectively denying it.
Mary 'a guardian of the Word'
Given the solemnity of the Assumption, Bishop Grech recalled that Jesus praised Mary not just because she gave birth to him, but especially because she heard the word of God and took care of it.
He recalled reflections made by Doctors of the Church, with St Leo the Great writing that Mary first conceived Jesus in her mind, then in her womb. St Augustine of Hippo, meanwhile, taught that "Christ as truth was in Mary's mind, Christ as flesh in Mary's womb; that which is in the mind is greater than what is carried in the womb."
The Bishop warned that one did not guard the word by decorating the Bible and putting it in a showcase: there was no shortage of these in museums. Instead, as Pope Francis had recalled, "we keep the Word of God when we open our hearts to it, and that Word falls like a seed in our hearts." Pope Benedict XVI had recalled that Mary "speaks and thinks with the Word of God; the Word of God becomes her word, and her word issues from the Word of God," and with this, she was able to become the Mother of the Word Incarnate.
The Assumption, Grech reflected, was telling the world that human words will begin to make sense if the Word of God is kept at the centre.
"We ask the Assumption to help us realize as soon as possible that rational or intellectual intelligence alone is not enough, but we need the intelligence of the heart that distinguishes man, so that we can be lifted up! Only God fills the human heart," he concluded.