The Maltese government only spent 0.4% on recreation and sporting services in 2017.
That's according to new data published by the European Union's data aggregator EUROSTAT, on how much European Member States are investing in sports and recreational activities as a percentage of total government expenditure.
This places Malta's investment on an equal footing with the EU member states Slovakia (0.4% Provisional), the United Kingdom (0.4%) and the very bottom country Croatia (0.2%), who invested the least. The EU average is calculated at 0.7%.
Looking across the last decade period between 2007 and 2017, the amount of investment has only risen by 0.2%, with periods of 0.3% yearly increases during the decade period.
Malta's investment has been conservative while fellow Southern EU nations have been higher but more fluctuating.
Italy's investment was registered at 0.5% in 2017, a near consistent figure across the decade. Portugal registered higher investment in the earlier period of the decade of between 0.8% and 0.9% of government expenditure. This dropped to around 0.7% in 2017. Likewise, Cyprus saw a drop from 1.1% in the beginning of the decade to 0.8% in 2017. Spain also invested over 1.0% of government expenditure on sports, before dropping by 0.2% to the provisional figure of 0.9% in 2017.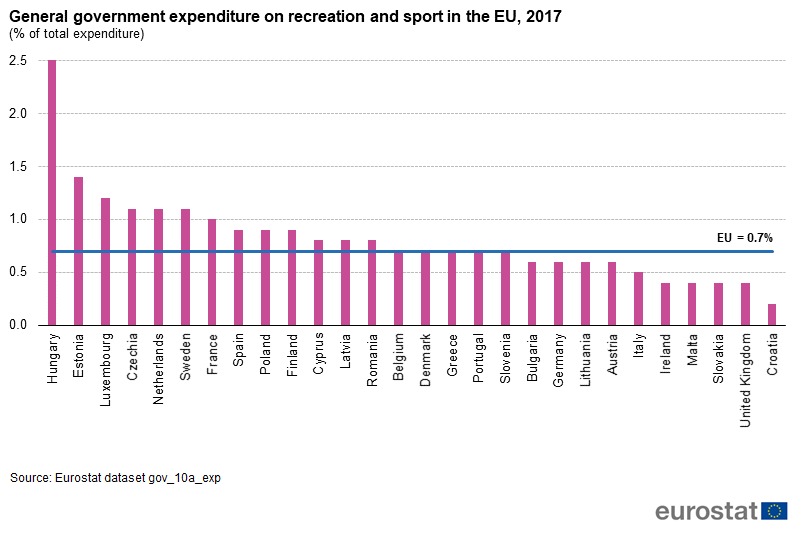 Malta spends €32 per person on sport
According to findings from the same report, the Maltese government spent €32 per citizen for sports in 2017. That was slightly higher than the Slovakian (€23), Romanian (€25) and Lithuanian (€31) governments.
The highest investors were the Luxembourg government (€492), along with the Swedish (€256) and Finnish (€206) governments.
Expenditure only up by €4,000 in 4 years
According to the Maltese National Statistics Office, the Maltese government's expenditure on Recreational and Sporting Services had only increased by €4,000 in period between 2013 and 2017.
The amount had fluctuated across the period, from €10,802 in 2013 to €7,885 in 2014. This then rose again to €12,518 in 2015 before dropping again to €9,552 in 2016. The 2017 figure is €14,802.
Cultural services received the highest amount of government expenditure within the 'Recreation, Culture and Religion' sector. Cultural Services had risen consecutively from €50,458 in 2013 to €90,294 in 2017.
Social Protection continued to be the biggest investment by the government, rising from €1,054,157 to €1,278,273 between 2013 to 2017.
Questions have been sent to the Parliamentary Secretary for Youth, Sport and Voluntary Organisations Clifton Grima.