Tista' taqra bil- Malti.
Council of Europe Rapporteur Pieter Omtzigt insisted that he expects newly-appointed Attorney General Victoria Buttigieg to take action and hold accountable those involved in Daphne Caruana Galizia's murder.
In a letter sent today, Omtzigt congratulated Buttigieg on her new role as Attorney General, while reminding her of the expectations and responsibilities that the position holds.
"Conviction and punishment to everyone involved in the murder of Daphne Caruana Galizia is perhaps top of the international community's list of expectations," the letter continued. He reminded that it was an attack on freedom of speech and democratic accountability in a Council of Europe member state.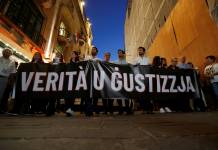 He added that he expects that Buttigieg will now take immediate and effective action on the 2018 Egrant report.
He described the Maltese criminal justice as one that has become of acute international concern, especially since the assassination of Daphne Caruana Galizia and the wide coverage of the high-level corruption scandals on which she reported. He recalled of all the international institutions which have reported on "serious shortcomings" in the Maltese criminal justice system.
Omtzigt insisted although there has been progress towards implementing structural recommendations relating to the Office of the Attorney General, however, the situation regarding high-level corruption remains deeply unsatisfactory. He ensured that it is now in Buttigieg's responsibility.
Regarding the murder, Omtzigt remarked that several allegations also remain unsolved, despite numerous ongoing magisterial inquiries. He added that since an Attorney General has various powers under the Criminal Code, Buttigieg must ensure that magisterial inquiries are expedited, facilitated and used to their full potential.