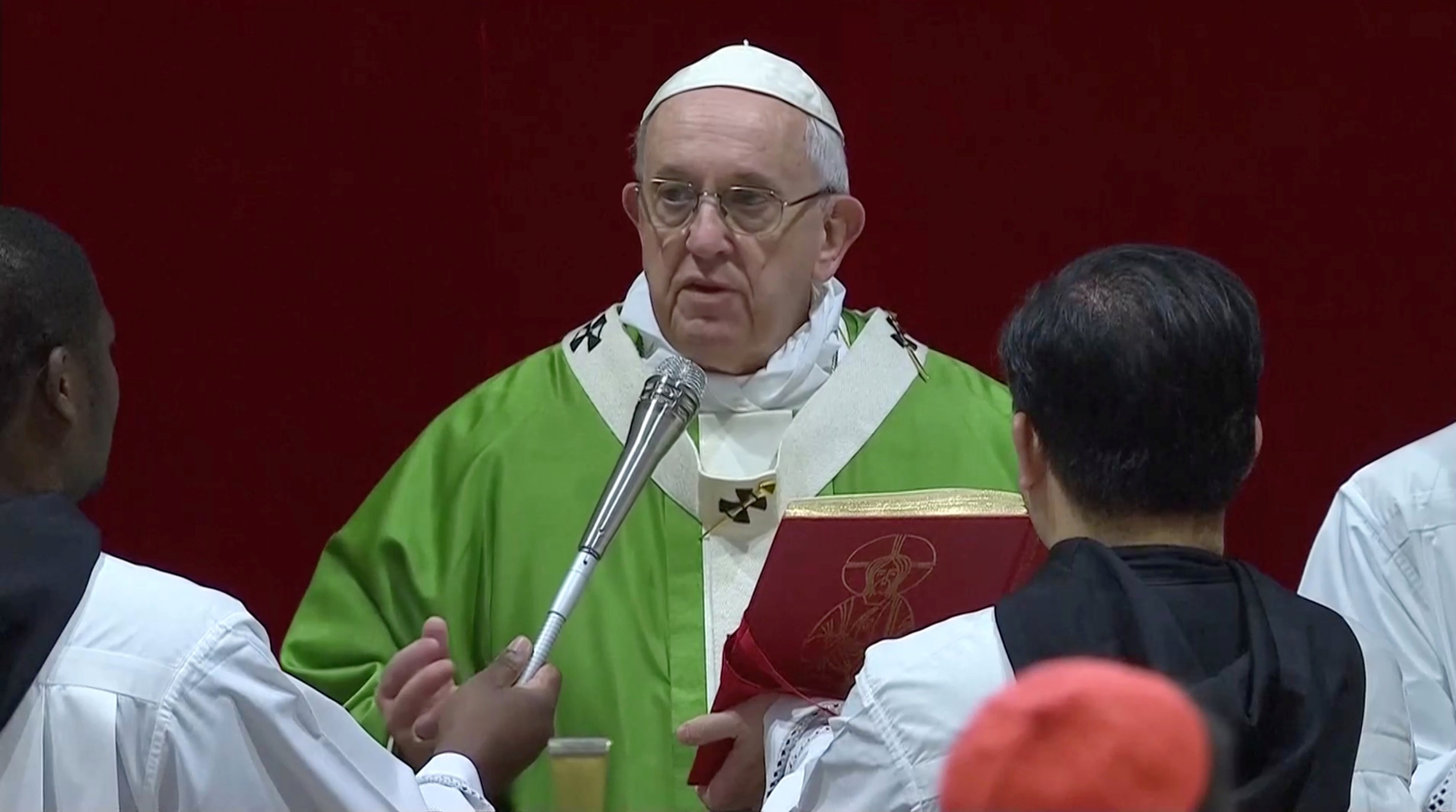 "No abuse should ever be covered up (as was often the case in the past) or not taken sufficiently seriously, since covering up abuse favors the spread of evil and adds a further level of scandal."
Pope Francis spoke these words at the end of a Mass he celebrated in the Vatican's Sala Regia closing the summit that gathered presidents of bishops' conferences from around the world and other Church leaders.
Francis described sexual abuse of minors by the clergy as  the work of the devil and Church personnel complicit in abuse become tools of Satan.
 "Crime does not enjoy the right to freedom," he said, adding that the protection of children must take into account new forms of abuse, many of which come from the digital world.
"The holy fear of God leads us to accuse ourselves – as individuals and as an institution – and to make up for our failures," he said adding that the Church cannot "fall into the trap of blaming others, which is a step towards the 'alibi' that separates us from reality."
READ: We are 'our worst enemy', bishop says as abuse conference wraps up
"People anger a reflection of the wrath of God"
"I would state clearly: If in the Church there should emerge even a single case of abuse – which already in itself represents an atrocity – that case will be faced with the utmost seriousness," Francis said.
"Indeed, in people's justified anger, the Church sees the reflection of the wrath of God, betrayed and insulted by these deceitful consecrated persons," he said. "It is our duty to pay close heed to this silent, choked cry."
He said that the Church must recognize with humility  that it stands "face to face with the mystery of evil."
Eight best practices
The pope listed eight "best practices": protection of children; impeccable seriousness; genuine purification; formation; strengthening and reviewing guidelines by episcopal conferences; accompaniment of those who have been abused; the digital world and sexual tourism.
The protection of minors from any form of psychological and physical abuse is the main aim of every measure, he said. Giving priority to the victims of abuse should be more important than the defensive and reactive approach of protecting the institution. Justice, said the Pope should be brought to those who've been hurt, never staying silent or failing to treat each case with the seriousness it deserves.
Holiness of pastors
Holiness of pastors, constant formation of seminarians and strengthened guidelines were three actions demanded by the Pope.
The Church also needs a "constantly renewed commitment to the holiness of pastors," constantly questioning how best to protect children, avoid these crimes and bring healing to survivors and victims.
Pope Francis emphasised the importance of the formation of seminarians, the weeding out of unsuitable candidates out and the nurturing holiness and chastity.
He also demanded that the guidelines from bishops' conferences must be strengthened and reviewed.
Some abuse victims disappointed
Reuters reported that some abuse victims and advocates for victims of sexual abuse expressed deep disappointment on Sunday, after Pope Francis ended a four-day summit at the Vatican on the protection of minors.
Tearful sexual abuse survivors said they felt ignored and let down as they gathered near St. Peter's Square during Pope Francis' weekly Angelus prayer following the end of the summit.
"Why didn't he call one of us to ask for forgiveness. I didn't hear a sorry in this Angelus. I didn't hear anything," sexual abuse survivor Alessandro Battista said as he shook his head.
Reuters reported that Peter Isley, a campaigner for a survivors support group, warned more action needed to be taken to protect children from clergy sexual abuse.
"Some child is going to be harmed today because of what he didn't do and say today," he said referring to Pope Francis.
Not everyone on the same page
Elise Harris, Senior Correspondent with Cruxnow.com, when on Saturday she was asked by Newsbook.com.mt about the reactions of victims, stressed that rather than one collective voice, there are multiple. She underlined that there were different perspectives and expectations from the victims.