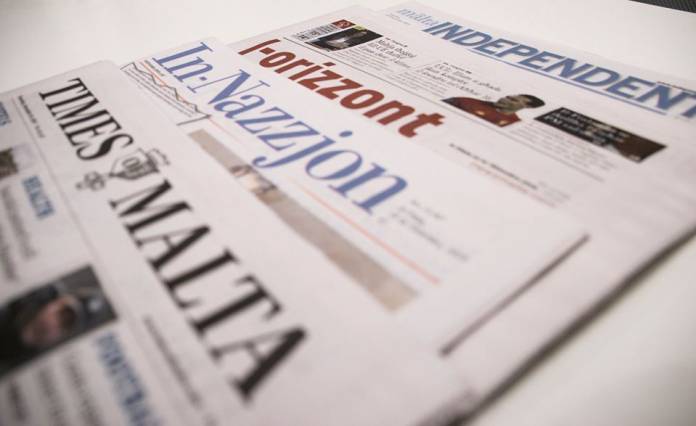 The Independent quotes the President of the Chamber of Commerce David Xuereb who recommended radical changes to the IIP scheme. He says that the difference in a new system must be clear to show that "lessons have been learnt." In-Nazzjon also reports on the publication of a five-year socio-economic plan for Malta by the Chamber of Commerce. The paper quotes Chamber president David Xuereb at a press conference who said that the country has suffered reputational damage. Business Today leads with a proposal by the Chamber of Commerce to scrap plans for the Gozo-Malta tunnel in favour of a multi-modal transport infrastructure that includes a metro link between the two islands.
L-Orizzont leads with Neville Gafa's testimony in court where he said that he personally intervened to stop 'thousands of migrants' from coming into Malta while many more were saved from drowning at sea. L-Orizzont speaks to PG Deputy Leader David Agius following reports that fresh disagreements have emerged between him and new party secretary general Francis Zammit Dimech. Agius told the paper that party decisions will be discussed internally.
The Times follows the testimony by Neville Gafa' in the public inquiry into the Caruana Galizia murder during which he said that his family was affected by the journalist's writings. The paper says that Gafa' is mentioned 23 times directly or in passing in Caruana Galizia's blog.The Independent quotes former government employee Neville Gafa' who told the Caruana Galizia public inquiry board that posts he made about the assassinated journalist were retaliation for 'hurtful' blog entries. In-Nazzjon says that Neville Gafa's testimony in court on Wednesday exposes his 'close ties' with Keith Schembri. The paper says that Gafa' was a person of trust in the Health Ministry but was sent to Libya on government missions using a diplomatic passport.
The Times reports that Home Affairs Minister Byron Camilleri has ordered a probe by the police Internal Audit and Investigations Department following revelations about overtime fraud by the traffic control section.
L-Orizzont says that Simon Busuttil has avoided naming PN Leader Adrian Delia in his final speech in parliament on Tuesday. The former Opposition Leader said that he became "public enemy number two" after Daphne Caruana Galizia.
Business Today reports that HSBC Malta registered a €45.3 million pre-tax profit for 2019, a 24 percent increase over 2018. The results, however, do not include a €16 million restructuring project and 1.4 million brokering remediation provision.
The Malta Business Weekly says that the EU has published a draft strategy for a digital single market that will examine practices by tech giants such as Facebook and Google while supporting growth and innovation in the EU tech industry.
The Malta Business Weekly reports that Malta placed 18th in the world for financial secrecy according to global index by the Tax Justice Network. The paper says Malta bucks the world trend of countries improving their financial transparency systems.