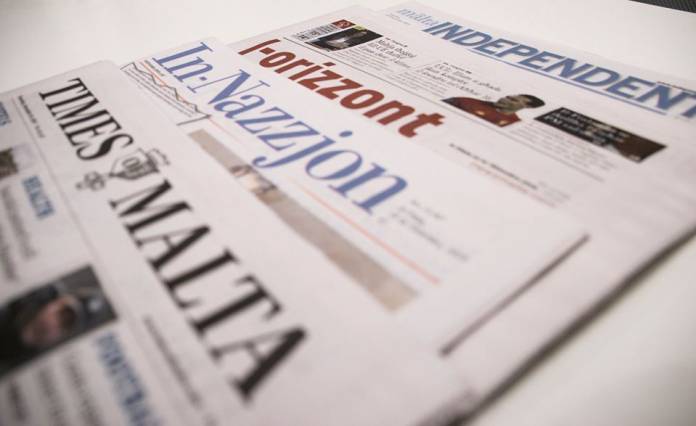 Good morning,
These are the main stories on today's newspapers' front pages.
Malta Today leads with the announcement of a third set of financial measures by the government focusing on businesses in the hardest-hit sectors. Prime Minister Robert Abela said that the package had the backing of employers and trade unions.
The Times says that the new rescue package unveiled by the Prime Minister on Tuesday will guarantee a salary of €1,200 to around 60,000 workers. The state will fund €800 while the employers will pay the remaining €400.
The Independent reports on the revised rescue plan announced by the government and says that the measures are estimated to cost €44 million per month and will be in place for a period of three months.
L-Orizzont says that the new relief plan for business by the government will effectively pay a week's salary for every employee in critical sectors that were forced to shut down. The measures are an add-on to the €1.8 million incentives announced last week.
In-Nazzjon quotes PN Leader Adrian Delia who said the government was being "reactive and selective" in its new financial aid measures. Delia also criticised the government for refusing to lower electricity rates while oil prices are down.
The Times asks former opposition MP Marthese Portelli about allegations that she resigned from parliament because of blackmail attempts. The new director general of the Developers Association dismissed the claims and said that she is aware of other "rumours" too.
The Independent says that the number of confirmed cases rose to 110 after three more people tested positive by Tuesday. Public Health Superintendent Charmaine Gauci warned that, despite a lower number of cases, the curve is still expected to go up.
L-Orizzont quotes Public Health Superintendent Charmaine Gauci who said that the Covid-19 situation is under control but warned that the success of the health measures depends on the collaboration of the public.
In-Nazzjon reports on a call for proposals issued by the Foundation of Medical Services for the procurement of a pre-fabricated hospital that is expected to be fully functional within eight weeks of the signing of the contract.
L-Orizzont reports that the "absolute majority" of emergency nursing staff has formally joined the General Workers Union. The paper quotes union secretary general Josef Bugeja who confirmed that both nurses and management will be represented.