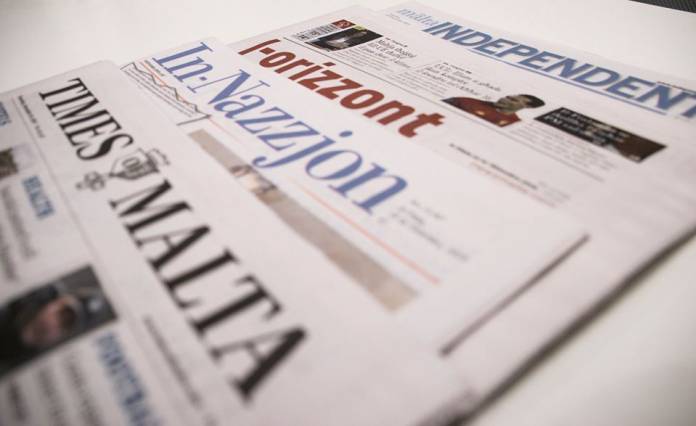 Today's four print papers all report on their frontpages developments taking place yesterday in the local courts as the public inquiry on the Daphne Caruana Galizia heard further testimonies on the case. The Times of Malta reports that the victim's family presented a lengthy dossier featuring various channels, including tv programmes, articles and social media posts, which according to the family where instigated by Government officials to discredit the slain journalist.
The Malta Independent quotes government's head of communications saying that journalists were in no way locked in during a late-night press conference last November. In-Nazzjon describes Carbone's testimony as "controversial", claiming that Carbone appeared to change versions when asked to identify the individuals who had blocked journalists in Castille.
L-Orizzont gives prominence to the testimony of its former editor, Josef Caruana, who in Court yesterday stated that he had always followed the press law and always avoided any trouble.
The Times of Malta reveals the unfortunate story of an 88-year-old Maltese man stranded on a cruise liner in Cambodia that is linked with at least one case of coronavirus. The MV Westerdam had 233 passengers on board, including two Maltese, and were all evacuated. The Maltese man was apparently not aware that his compatriots were evacuated and he had been left behind. The family indicated that the elder is in good spirits, but getting tired, and called on the Maltese authorities to assist.
The Malta Independent highlights a re-assuring statement by Deputy Prime Minister Chris Fearne indicating that were no coronavirus infections in Malta so far, but two people were currently being held in quarantine as a precaution after their return from a cruise in Asia.
L-Orizzont reports the conviction to two years suspended imprisonment for the owner of a Mosta farm guilty of keeping animals in a very bad state. The term would come into force should another similar crime be committed in the next four-year period.
In a third front page story, L-Orizzont quotes former Nationalist PN who described the current rebellion against PN Leader Adrian Delia as "lacking a strategy". Debono's comments were made in the wake of a survey indicated that the Delia had the support of 56% of paid-up members.
In-Nazzjon recalls the recent scandal involving the Police Corps and remarks that after almost a week no responsibility has been taken by all parts involved.