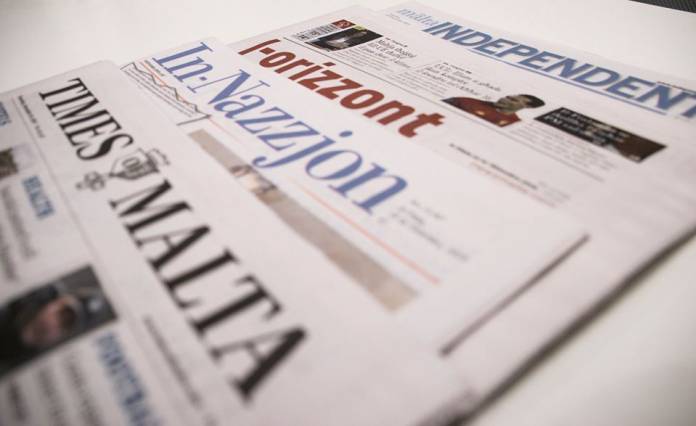 These are today's stories on Malta's Newspapers' Front-pages.
The Independent leads with the confirmation by Health Minister Chris Fearne of the fourth case of coronavirus in Malta. The patient has recently returned from a trip to northern Italy, but authorities say that he remains in good condition.
The Times speaks to airport CEO Alan Borg who said that a total of 278 flights were cancelled by seven airlines as a precautionary measure against the virus spread. Borg said that MIA is bracing itself for "two challenging months."
L-Orizzont says that the union of midwives and nurses issued a series of directives amid demands for protective overalls for frontline staff. Mater Dei authorities disagree with the union and said that the provided gear is sufficiently protective.
In-Nazzjon quotes PN Leader Adrian Delia who said that the Prime Minister has enough information to withdraw the hospitals privatisation deal. Delia said that that the millions pumped into Vitals could have been used against the coronavirus spread.
The Independent speaks to Equality and Justice Minister Edward Zammit Lewis about the house collapse in Ħamrun last week. He said that it is wrong for authorities and the private sector to blame each other for the tragedy and everyone must recognise their own failures.
The Times says that the public spent €86 million on Vitals in its first two years but the hospital operator still registered €27 million in losses in 2017. Finance Minister Edward Scicluna said that investments went for salaries of healthcare professionals.
L-Orizzont says that the government is set to present a bill proposing one form of cohabitation by public act. The new law will replace de facto cohabitation, automatic cohabitation and cohabitation by unilateral declaration.
In-Nazzjon says that Health Minister Chris Fearne turned down a request by the Opposition Leader to participate as an observer in meetings related to Covid-19. Fearne said that he was in regular contact with the shadow minister to discuss developments.
L-Orizzont reports that a 75-year-old man has been jailed for five years after he was found guilty of corrupting and raping a 14-year-old girl. The case dates back to 2004 when the teen started working for the family acquaintance.