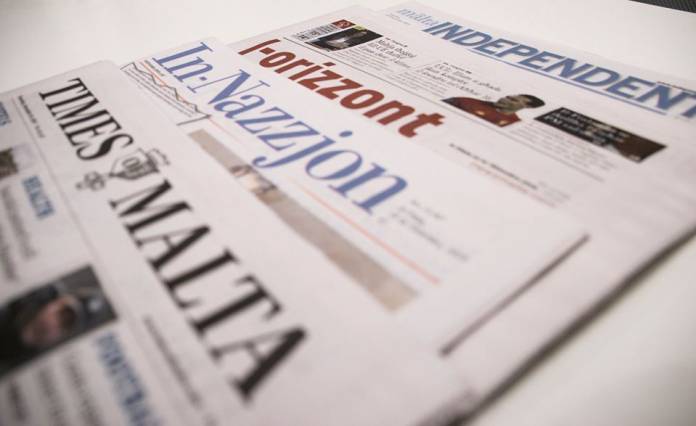 Good morning,
These are the front page stories from Malta's newspapers published on Tuesday.
The Times leads with an urgent request by Malta for the EU to deploy a €100 million food and medicine package to Libya to prevent migrants in the north African country's detention camps from taking their chances on risky boat crossings to Europe.
In-Nazzjon says that PN Leader Adrian Delia has written to the president of the European Popular Party Donald Tusk requesting the inclusion of irregular migration to the agenda of a forthcoming summit of leaders.
The Independent quotes Archbishop Charles Scicluna who said that countries have a legal and moral obligation to save people in distress in their Search and Rescue areas. The archbishop tweeted on Monday that safety of migrants at sea is non-negotiable.
L-Orizzont quotes Public Health Superintendent Charmaine Gauci who appealed for prudence and said that Malta is still in its earlier stages of the pandemic despite less than 10 new daily cases discovered in the last two days.
In-Nazzjon says that hundreds of migrants who were on a boat adrift over the weekend could not be located by Frontex planes on Monday evening. Contact with a dinghy that had signalled it was in distress has been lost.
The Independent reveals that a new legal notice will criminalise the wilful spread of the Covid-19 disease with up to a nine-year jail sentence. Patients who spread the virus through carelessness face up to six months in prison and a fine of more than €2,300.
L-Orizzont carries a report about a married couple, both of whom are doctors and have been infected by the virus. The paper says that the husband is fighting for his life, but the wife does not show any symptoms.
The Times says that the federation of trade unions is urging Prime Minister Robert Abela to intervene in the Air Malta situation to save hundreds of jobs that are expected to be cut. The federation said decisions should be taken with the airline's recovery in mind.
In-Nazzjon says that Prime Minister Robert Abela has not yet reacted to calls for the immediate resignation of Social Services Foundation CEO Alfred Grixti, after publicly suggesting that boats carrying migrants should be sunk.