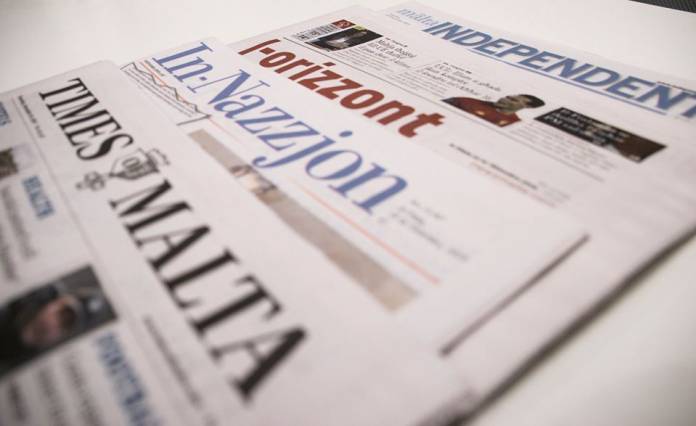 These are the main stories from today's front pages of Malta's newspapers.
The Independent leads with the indictment of Justin Borg who stands accused of killing his former partner Chantelle Chetcuti by stabbing her repeatedly in the head. A court heard the testimony of the victim's father who said Borg was "obsessed" with his daughter.
L-Orizzont follows the testimony in court of Eugenio Chetcuti, the father of Chantelle Chetcuti who was murdered this month in Żabbar. He said that the greatest pain for him was that no one could pull the knife sticking out of his daughter's head.
In-Nazzjon quotes PN Leader Adrian Delia who said that the privatisation of three state hospitals has cost taxpayers €240 million. Delia said that government ministers are divided over the "corrupt deal" with VGH which was then transferred to Steward Healthcare.
The Times identifies the 72-year-old inmate who was found dead in his cell in Corradino as an accomplice in the 2001 killing of traffic warden Fortunata Mizzi. The family of the victim fears that the mastermind may now never be caught.
L-Orizzont reports on the death of Ġanni Attard, who was serving a sentence for the murder of a traffic warden in Gozo 19 year ago. The paper quotes sources that believe Attard died of natural causes, but a magisterial inquiry has been opened to assess the circumstances.
The Independent speaks to Minister Jose Herrera who said that emphasis needs to shift from economic growth to the preservation of heritage and the environment. Herrera was Environment Minister before being handed the Heritage and Arts portfolio.
In-Nazzjon says that there is not enough staff to manage the screening of arriving passengers at the airport and the cruise liner terminal. The government announced on Monday that thermal cameras were set up to monitor potential coronavirus infections.
The Times quotes the Director General of the World Health Organisation Tedros Adhanom who said that, although, the coronavirus is a "potential pandemic", a mission to China showed that it had subsided steadily in February raising hoped that it can be contained.
L-Orizzont covers a meeting between Education Minister Owen Bonnici and the General Workers Union discussing the need for greater synergy between the education system and the place of work.