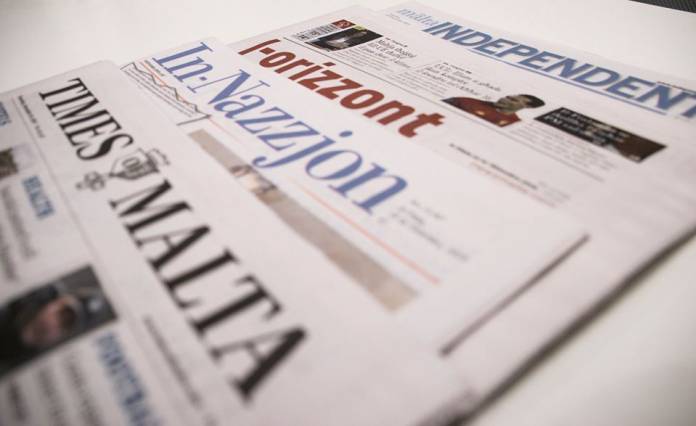 These are the main stories on today's front pages.
The Malta Business Weekly leads with plans by Air Malta to launch direct flights to Ghana from Malta in the second half of this year. The CEO of the Ghana Investment Promotion Centre announced that talks are at an advanced stage.
Business Today reports on a diplomatic and trade mission to Malta led by Economy Minister Silvio Schembri. The Maltese delegation signed five MOUs with counterparts in sectors including entrepreneurship and innovation, education and aquaculture,
The Times reveals that the people under arrest over the Ħamrun house collapse denied claims that excavation works were being conducted at the time of the accident on Monday. They told investigators that the site was being cleared of soil and dust.
The Independent quotes Prime Minister Robert Abela who said he has no doubts that the house collapse in Ħamrun was linked to construction works nearby. Addressing a press conference, Abela said that a technical committee will recommend changes to regulations.
In-Nazzjon reports on the reactions to the tragedy in Ħamrun by PN Leader. Adrian Delia said that it is now clear that the building reform "quickly announced" by Minister Ian Borg in July was a failure.
L-Orizzont speaks to the Competition and Consumer Affairs Authority about the rise in hand sanitisers in recent days. The watchdog said that high prices are only illegal if anti-competitive agreements are put in place.
Business Today speaks to economist Philip von Brockdorff about the effects of the Covid-19 spread on the global economy. He said that it is still too early to assess the impact on GDP but there are indications that the world economy is slowing down.
The Malta Business Weekly says that coronavirus cases are falling in China but increasing elsewhere around the world. It says governments in Europe are scrambling to try and control the supply of necessities.
The Times carries an interview with Hotels and Restaurants Association President Tony Zahra discussing the effects of coronavirus on the industry. Zahra said that tourism has taken a hit as some travellers, especially in the business category, were quick to cancel their stays.
L-Orizzont reports that constituted bodies will today discuss coronavirus developments at a special meeting in Castille and says that the General Workers Union will demand clarifications on issues surrounding quarantine.
The Independent follows a session of the Parliamentary Committee on Social Affairs during which women's rights activist Anna Borg argued that the legalisation of prostitution would be 'a gift' to pimps and human traffickers.
In-Nazzjon quotes Opposition Leader Adrian Delia in parliament who called for a new Police Commissioner who enjoys the backing of both sides of the House. Delia criticised the appointment of six Commissioners in six years