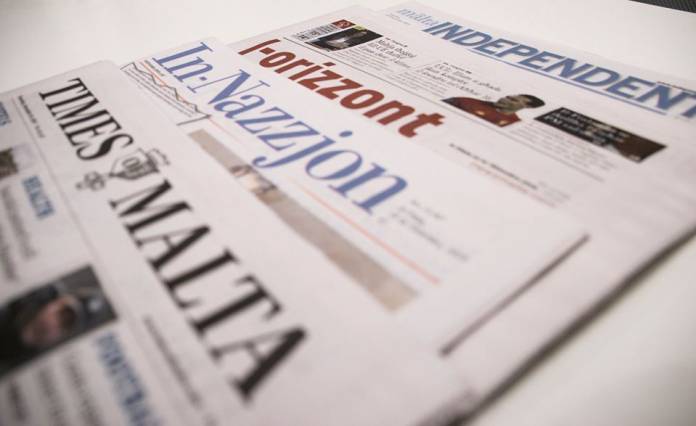 Good morning,
These are today's newspaper front-page stories.
Malta Today says that authorities are closely monitoring developments over the next ten days before they decide on lifting any of the restrictions imposed to control the spread of the coronavirus.
The Times says that unemployment jumped by 20 percent in March compared to the same month last year. Data by the National Statistics Office indicates an increase in joblessness by 28 percent from February, with the start of the pandemic.
L-Orizzont says that unemployment levels in March were similar to figures registered in December 2017, counting 2,125 jobless. The paper says that the government's rescue measures are limiting the impact of the crisis on the economy.
The Independent quotes survey results by the Gozo Tourism Association which reveals that 84 percent of members see a difficult future for the island's tourism after Covid-19. Respondents are calling for an immediate response to the crisis.
In-Nazzjon reports demands by the Malta Employers' Association for energy prices to be lowered with immediate effect to reflect international oil prices. The association says that consumers are paying more since they are forced to stay indoors.
Malta Today claims that the Prime Minister is considering a proposal to turn areas in Miżieb and L-Aħrax tal-Mellieħa into hunting grounds. The paper says that the plans were floated during a Cabinet meeting on Tuesday and were not met with any objection.
The Independent says that NGO Repubblika has provided evidence in court that goes against a complaint originally filed to investigate a clash at sea between AFM soldiers and migrants. The evidence reportedly shows that officers followed standard rescue procedures.
L-Orizzont reports that 150 Covid-19 patients have now overcome the disease after 24 cases were confirmed recovered on Tuesday. Meanwhile, another 12 people tested positive for swab tests raising the number of active cases to 290.
The Times reveals that instructions to the Planning Authority CEO to allow high-rise buildings in Mrieħel were issued the same day that Minister Michael Farrugia met Tumas Group director Yorgen Fenech.
In-Nazzjon publishes a statement by the Nationalist Party which accuses Prime Minister Robert Abela of deception by implying that the Opposition Leader is endorsing any allegations against the Armed Forces.
L-Orizzont speaks to the General Workers Union secretary for Disciplined Forces, Theo Vella, who said that AFM officers will emerge stronger from an criminal investigation into the death of migrants in Maltese waters.