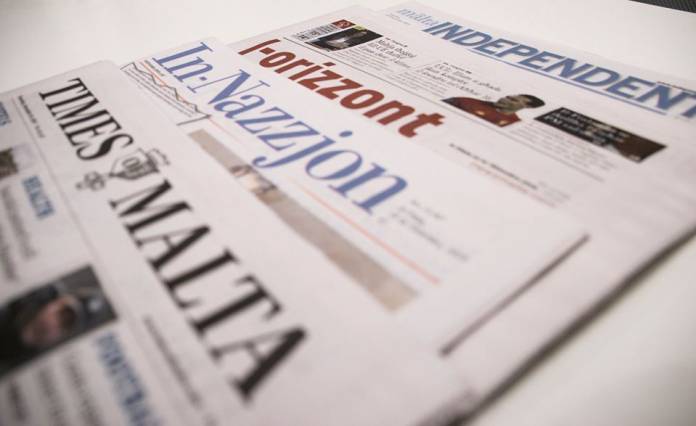 Good morning,
These are the main stories on today's front-pages.
The Independent leads with an announcement by the government that it will subsidise up to 2.5 percent of interest rates on bank loans taken by businesses. Companies must pay a minimum of 0.1 percent.
The Times reports on the new loan support scheme for businesses unveiled by Finance Minister Edward Scicluna and Parliamentary Secretary Clayton Bartolo. The initiative is estimated to cost €20 million every year.
L-Orizzont calculates that the price of a regular shipping list has increased by some eight percent since the start of the outbreak. The paper says that not all food stores have revised prices, but most are expected to adjust them to reflect new costs.
In-Nazzjon reports that another 38 Covid-19 patients have fully recovered, bringing the total number of recoveries to 82 from 412 cases. On Thursday, the Public Health Superintendent announced that 13 people tested positive to swabbing.
The Times quotes Foreign Affairs Minister Evarist Bartolo who revealed that 355 Maltese citizens are still waiting to be repatriated to Malta. He said that most of them are outside the EU, making the process more complex.
The Independent says that health authorities have decided to extend the quarantine imposed on the Ħal Far migrants centre after four new cases surfaced among residents yesterday. The quarantine period was due to end this Sunday.
In-Nazzjon quotes Chamber of Commerce president David Xuereb who said that up to 25,000 could lose their jobs as a consequence of the emergency. The paper says that the rescue measures introduced by the government leave 100,000 people exposed to risks.
L-Orizzont carries an interview with the Commissioner for the Rights of Persons with Disabilities, Oliver Scicluna, who said that a lockdown creates 'enormous restrictions' on people with disability.