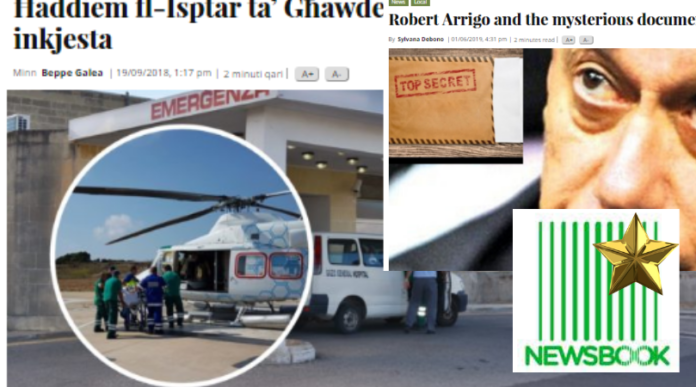 Newsbook.com.mt is the third largest news website in Malta having an audience much bigger than ever before. This is confirmed by the authoritative Alexa.com which ranks websites.
A delighted Editor-in-Chief, Sylvana Debono reacted to this impressive result by thanking the readers for their support and the journalists for the stories investigated and published.
An increase of 15%
According to the Alexa ratings, Newsbook's audiences are larger than those of Malta Today, Lovin' Malta, The Malta Independent, Net, iNews and One. Newsbook's success can be attributed to its bilingual package, offering a great variety of high quality investigative stories as well as stories about lifestyle, culture, sports, celebrities and the Church.
This achievement is underlined by an increase of 15% in the number of unique users as well as a 41% increase in the number of sessions over the same period- May and June – last year.
Since the reform of the Church media started in January 2017, Newsbook has been increasing its popularity year in year out. The increase in readership of Newsbook.com.mt since the reform can be described as nothing if not impressive.
Improvement in quality
Throughout the first months of 2019 Newsbook.com.mt had many exclusive reports.
The PN meltdown took centre-stage: Robert Arrigo and the mysterious document
Government came in for a lot of flak from the Council of Europe: 'Unprecedented that the CoE looks into an EU member state' – Omtzigt
And in the lifestyle section, "Nibqa' nagħti appoġġ lil żewġi sakemm Alla jagħtini l-enerġija u l-kuraġġ" – Christabelle Borg
Newsbook.com.mt outed the Planning Authority for renting a private jet for a parson to come to Malta for a few hours to vote in favour of the dc Group project in Pembroke.
Newsbook also uncovered illegal dumping or tonnes of construction waste covering an area larger than a football ground.
Watch: An orgy of illegal dumping at Ta' Qali
There was also the story of the patient who died after the Gozo General Hospital helicopter was not available.
ESKLUSSIVA: Provi li l-ħelikopter ma kienx hemm għall-pazjent
Newsbook was the news portal with the most detailed reportage of the Archbishop's mission in Chile, the one who invited most members of the Church to explain the Church's position on a number of issues, and the portal which reported most international Church stories.
​Filmat: "Għandna tendenza li nħarsu lejn il-qligħ imma mhux minn fejn ġej" – Architect Daniel Darmanin, Commission for Justice and Peace
Il-Knisja ilha sentejn titlob lill-Gvern jagħmel studju dwar il-proprjetà – Ronald Camilleri, Enviroment Commission
Abbuż Ċilì: L-Arċisqof "interrogat"
​"Il-ġustizzja u l-verità mhux faċli jekk ikun hemm xibka ta' korruzzjoni" – Archbishop Scicluna
From June 2018, Newsbook also started publishing in English, as well as carrying on publishing in Maltese.
Thank you to the readers
"We thank our readers for the faith they repeatedly show in us. During our work, we always hold the basic criteria of every serious journalist as a priority: that the article is just, that the article is well-researched and well-written, and that the article is founded on trustworthy sources. We are set on continuing to raise the bar and do our utmost to avoid mistakes as much as humanly possible," said Sylvana Debono, Editor-in-Chief of Newsbook.com.mt.