Tista' taqra bil- Malti.
An otherwise healthy individual without any symptoms tested positive for coronavirus during a routine test and spent two weeks in quarantine recovering at home.
A Newsbook.com.mt reader told this newsroom that after two weeks he had tested positive, a second test was carried out where he tested negative. He was released the next day from quarantine.
It only took a week, before coronavirus showed it was still there and he had all the symptoms.
The person begged the health authorities to place mandatory quarantine for another two weeks and have his family members retested. He highlighted that during his work he also comes across vulnerable individuals which if he still carried the virus could experience complications.
Given that he had received the release from quarantine, the man had to go back to work.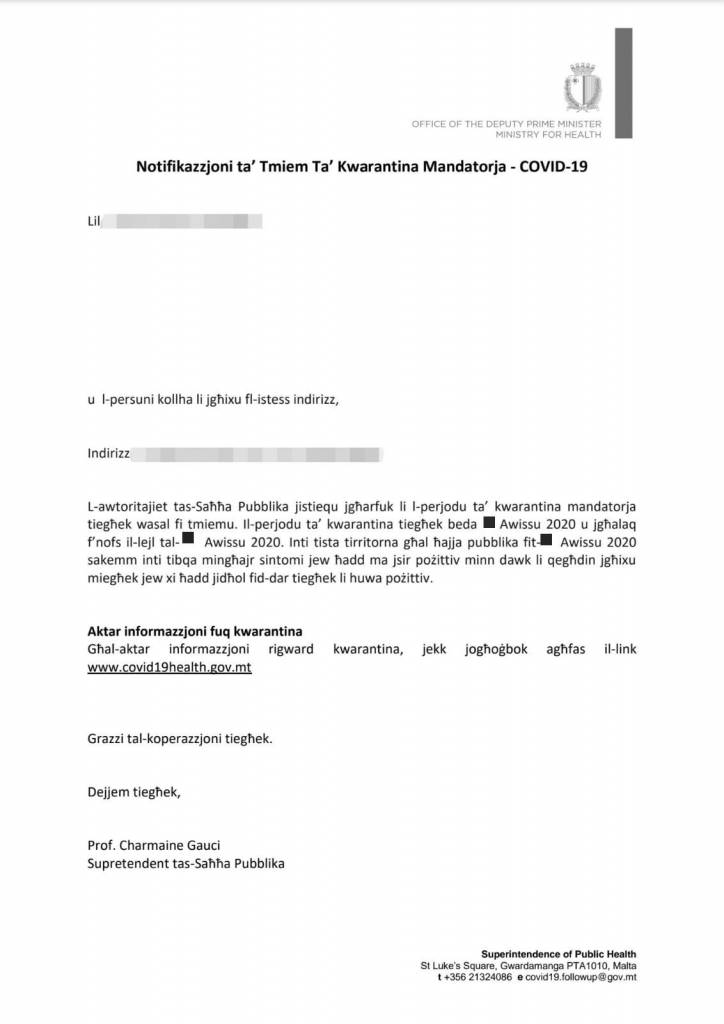 Some seven days later, he developed symptoms associated with coronavirus, including fever and pain. He called the health authorities and once again got a swab test. He got to know that he was still positive for coronavirus with more symptoms. The health authorities are yet to send the letter informing him that he is back under quarantine. The man was in quarantine the next day, after the contact tracing team informed him that he was a contact of someone who tested positive from his workplace, possibly having contracted the virus from him.
The public health authorities called him after three days confirming that he is positive and will be sending out the letter ordering him to remain in quarantine next week.
Speaking to Newsbook.com.mt, the person estimated that there are several people who came in contact with him now under quarantine, namely his work colleagues, their relatives and his relatives. A person even contracted the virus from him, after he was released the first time.
The person told this newsroom, that he avoided mass gatherings and took all the precautions to ensure that he does not put his life, that of his family and those around him in jeopardy before he tested positive the first time.
Similar stories
An Italian man whose letter was published in the Italian online newspaper Corriere di Malta, described a similar situation.
The man recounted how he tested positive on 9 August and was asymptomatic at the time.
A second swab test was carried out on 21 August where he got a negative result. The health authorities released the man from quarantine on 23 August.
In his letter, the man said that he asked for a second swab test to which the health authorities replied that it was not needed because he had 'recovered'.
After spending two days at home, the man took the ferry back to Sicily, showing the negative test result.
Upon his arrival, the man decided to take a swab test again in Catania, resulting in a positive test once again.
The Italian individual and our reader had 'recovered' from coronavirus in exactly two weeks, only to test positive again later, once retested.
A surge in infections, a surge in recoveries
The average recovery rate for a patient is 15 days, Superintendent Professor Charmaine Gauci had told Newsbook.com.mt during a recent weekly press briefing.
Malta has experienced a surge in infections by the end of July, after new coronavirus cases had been reduced to zero for a week earlier that month.
As a consequence of the surge in infections, the government moved to ban mass gatherings and make the use of masks mandatory on public transport and inside establishments. People were advised to wear a mask when social distancing was not possible.
Over recent weeks, a surge in recoveries was also observed. On Saturday, the health authorities reported 30 new cases of coronavirus and 36 new recoveries. The number of active cases now stands at 399, only three weeks after it had surpassed the 500 mark. 
Until 20 August, Malta had registered nine coronavirus related deaths since the beginning of the pandemic. In recent weeks, five coronavirus deaths were registered.
Change in protocol?
Until recent, positive patients would be re-tested twice and it is only after two consecutive coronavirus negative swab tests that they would be released and declared as recovered.
Fielding questions from the media on Friday, the Superintendent of Public Health, Professor Charmaine Gauci explained that the local health authorities were following the guidelines issued by the European Centre for Disease Prevention and Control (ECDC).
When a person is found to be positive, a swab test is carried out three days after the symptoms are gone. In the absence of symptoms, the health authorities would conduct another swab test to determine whether the person has fully recovered. If the person obtains a negative result, they are declared as having recovered and are subsequently released from quarantine.
Therefore according to Professor Gauci, by following the ECDC guidelines, only one negative test fourteen days after having tested positive is required.
Newsbook.com.mt has sent questions to the health ministry which remained unanswered until the time of writing.
If you want to be the first to receive the latest news on the coronavirus in Malta, download the Newsbook APP here.