Most first residence permits issued by the Maltese authorities in 2018, were granted to those seeking employment in Malta.
EUROSTAT reports that of the total 17,176 first residency permits issued by the Maltese authorities last year, 59.3% of those (10,178) were for employment reasons.
19.8% of these were granted for educational reasons (3,397) and 8.9% were granted for family reasons (1,534). A further 12% (2,067) were granted for other reasons. This figure of 17,176 breaks down as 35% per 1,000 of the total population.
The figures show that Indian nationals made up the largest group of people given citizenship in Malta in 2018. Indians numbered 13.4% (2,299) making them the first in Malta's top three permits granted by nationality. Serbians were ranked second on the list at 12.9% (2,209) and Pilipino (1,650) were third on 9.6%.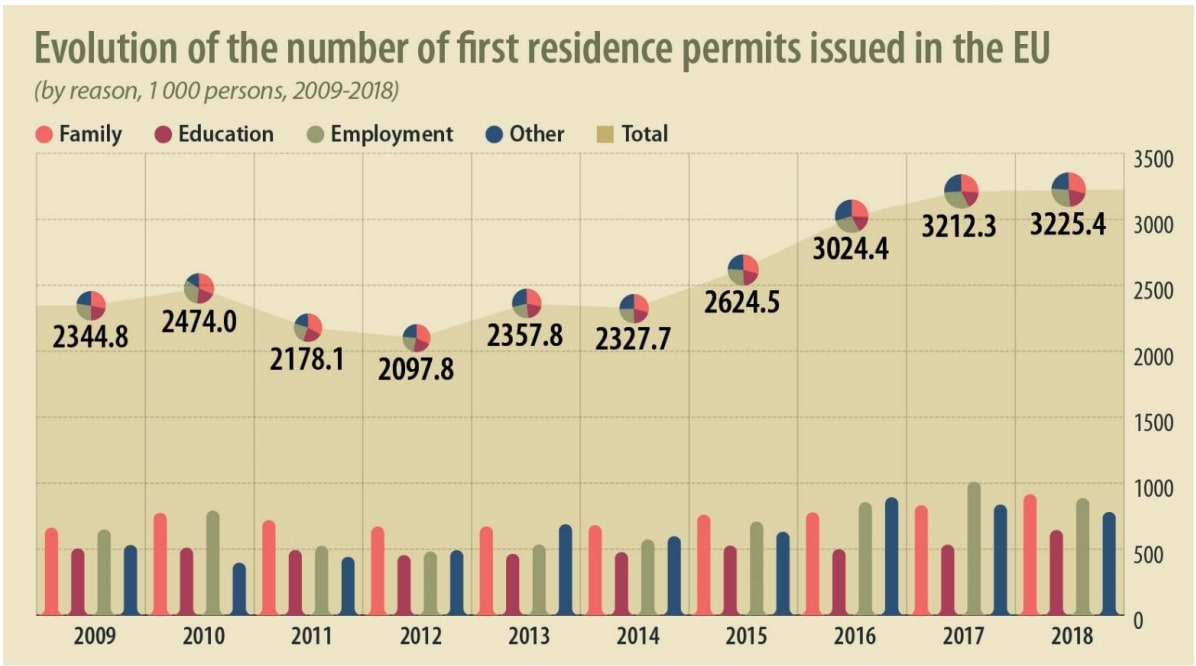 Looking further, the numbers also show that the Maltese authorities also granted first residence permits to Columbians (724), Russians (683) Chinese (621) and Turkish (573) nationals in 2018.
Last year's figures are up almost 5,000 on 2017 (4,679). During 2017, Serbian nationals were the top nationality being granted first residency in Malta (2,035) while Pilipino nationals were second (1,181) and Indians were third (957).
Likewise, 2017 saw more Turkish (760) nationals and fewer Russian (579) and Columbian (547) nationals.
Overall, over 3 million people were granted first residence in European Union member states (3,225,436). This was an increase of just over 13,000 (13,094) on the previous year (3,212,342).
Of these, family reasons accounted for most of the total number at 914,757. Employment ranked second overall at 885,666 and Educational reasons at 643,898.
According to the infographic on the top 10 citizenships granted first residence permits in the EU, Ukrainians made up the majority of permits granted (526.9% – 526,864) and the majority per 1000 people (64.7%).
Chinese nationals made up the most permitted for educational reasons (67.0%) while Moroccans made up the most granted for family reasons (60.9%). Syrians and Belarusians topped the listing for the most permitted for other reasons (Belarus – 73.5% / Syria – 68.3%).