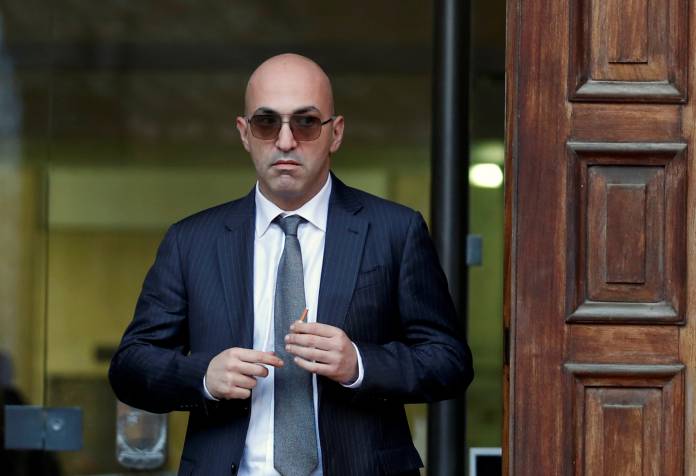 Tista' taqra bil- Malti.
On November 26 Newsbook.com.mt had revealed that Yorgen Fenech was ready to reveal all about the Montenegro scandal. In one of the best-read reports carried by this portal, it was reported that Fenech was offering to give this information and also reveal many other scandals if he were given a presidential pardon. The pardon was refused by Muscat's Labour government and the information that Fenech was ready to make a grand reveal is still a secret. But on Friday light was shed on the scandal by an investigative story published by Reuters and Times of Malta.
What Reuters and Times of Malta revealed
It has now been revealed that Cifidex received a transfer of Euro 3 million from Fenech's secret company 17 Black. Cifidex then used this money to buy shares from Fersa Renovables, a Spanish consortium that had been given the concession to run the wind farm by the Montenegro government in 2010. A few days later EneMalta bought the same shares for trice the price – Euro 10.3 million – a few days later. By June 2016, Cifidex had sent back to 17 Black the original €3 million along with an additional "profit" of at least €4.6 million, three sources with access to 17 Black's banking records in Dubai have confirmed.
The purchase came after negotiations and several trips to Montenegro led by Malta's then energy minister, Konrad Mizzi. When asked about his trips to Montenegro, Mizzi replied that his involvement in this project was as Minister responsible for Enemalta, setting overall energy policy. He denied playing part in any corrupt deals.
Nexia BT the accountants of disgraced former Minister Konrad Mizzi and Keith Schembri disgraced former Chief of Staff of Joseph Muscat, had written an email stating that its clients were to receive Euro5,000 a day from 17 Black. Mizzi and Schembri vehemently deny any wrong-doing and deny that they received any money from 17 Black.
What scandals is Fenech ready to speak of?
Last Newsbook.com.mt had reported that Yorgen Fenech who was being questioned by the police at first named Keith Schembri on Monday, November 25 as news of the government pardon given to Melvin Theuma hit the headlines.
Informed sources told Newsbook.com.mt that Yorgen Fenech told the police that Keith Schembri sent him a message telling him that "I'll help you if you keep me out of it" ("Tikxifnix u ngħinek"). Alas, Fenech decided to out the corrupt dealings related to Electrogas and even the windfarms which Enemalta has built-in Montenegro. Fenech spoke up also about the murder of Daphne Caruana Galizia.
Corruption in Electrogas deal
Yorgen Fenech gave the police information on what he described as corruption by Keith Schembri in the Electrogas case. The project had been given to a consortium composed of Siemens GmbH and GEM Holdings. The latter was made up of Tumas Energy Ltd(30%) Gasan Group(30%) CP Holding (30%) and New Energy Supply (10%). Yorgen Fenech was the sole owner of New Energy Supply.
Yorgen Fenech also alleged corruption by Keith Schembri in the wind farms project which was built in Montenegro, in which Enemalta was also involved. In December 2018, the then Minister for Energy Joe Mizzi had said that this project shows the commitment which government has in the energy sector. This project has an investment value of €90 million.
Perhaps the worst revelation which Yorgen Fenech made to the police was the involvement which Keith Schembri purportedly had in the murder of Daphne Caruana Galizia. It transpires that several persons knew of this case beforehand or had put money in the kitty to fund the assassination.
Keith Schembri denies any wrongdoing about any of the above scandals.
Fenech requested pardon to reveal all
According to the law, the government is the body which will decide who will be given the facility to turn state's evidence. It is the government's prerogative of who gets the so-called presidential pardon. The government may give its recommendation to the President, but ultimately the President cannot abandon such recommendation from the government.
Fenech's request for a pardon was refused by the government. Recently Prime Minister Abela was asked whether he would consider granting pardon to Yorgen Fenech. Abela skirted the issue, citing due process will be followed on the matter.
Reactions to the scandal
Prime Minister Robert Abela declared himself "disgusted" by claims that 17 Black, the secret company set up by Yorgen Fenech, made millions off Enemalta's decision to buy a Montenegrin wind farm in a press conference on Friday evening. Abela, who at the time was PM Muscat's top advisor, now insists that it was not yet the time to ask for the resignation of any of his MPs, including disgraced former minister Konrad Mizzi, who had set up offshore structures which, documents indicated, would receive funds funnelled through 17 Black.
Opposition leader Adrian Delia described the revelations as constituting an act of treason. Delia said that the revelations shed new light on how the public was robbed by a Labour government, and insisted that the greatest priority should be given to investigating them. However, he argued that this could not happen at present, since "the same people who stole from the public and weakened the police force are still around."
Questions raised by the scandal
The question that Newsbook.com.mt will pose are the following:
What more does Fenech know and is ready to reveal? Who will be the persons he would mention?
Since the scandal was public knowledge since last November what action was taken by the political and investigative institutions?