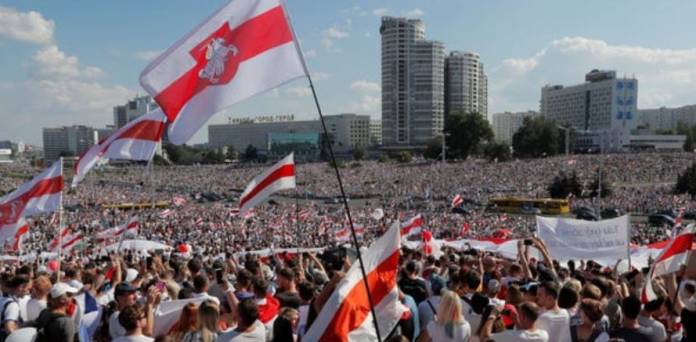 The European Parliament has overwhelmingly backed a resolution rejecting the official results of the "so-called presidential elections" in Belarus and called for sanctions against those responsible for falsifying the election results and for the violent repression of protests.
In a separate motion, MEPs also condemned the attempt to assassinate Russian opposition politician and anti-corruption activist Alexei Navalny with a nerve agent, and since the same agent could only be developed in state-owned military laboratories, emphasised that the Russian authorities are to be held responsible even if they did not order the attack.
MEPs to stop recognising Lukashenka as Belarus president
The present term of Belarus' authoritarian leader Alyaksandr Lukashenka expires on 5 November, and in a resolution adopted by 574 votes in favour, 37 against with 82 abstentions, the EP agreed that it would no longer recognise him as the legitimate president of the country from that day on. They welcomed the recently-established Coordination Council as an "interim representation of the people demanding democratic change," whilst reiterating calls for new, free and fair elections under international supervisions.
MEPs called for EU sanctions against Lukashenka and those deemed responsible for the present situation, and called on member states to implement these restrictive measures without delay.
In their resolution, MEPs condemned mass arrests and violent crackdowns on protesters, strike leaders and journalists, and underlined the important contribution made by female opposition members.
Russian government deemed likely culprit in Navalny attack
The nerve agent used in the attempt on Navalny's life belongs to the so-called Novichok group, which can only be developed in state-owned military laboratories and which cannot be acquired privately.
This, MEPs said in a resolution adopted with 532 votes in favour, 84 against and 72 abstentions, strongly implied that the Russian authorities were behind the attack. But should someone else be found responsible, Russia would still have clearly breached its international legal commitments.
The EP argued that the assassination attempt was part of a systemic effort to silent dissident voices in Russia, noting that his case wasa only one element of a wider Russian policy focusing on oppressive internal policies and aggressive actions worldwide.
MEPs thus called for an international investigation into the case, and called on EU member states to take an active stance by placing new restrictive measures and strengthening existing ones.
They also urged the deployment of sanction mechanisms that would allow the European assets of corrupt individuals to be collected and frozen in accordance with the findings of Alexei Navalny's Anti-Corruption Foundation.