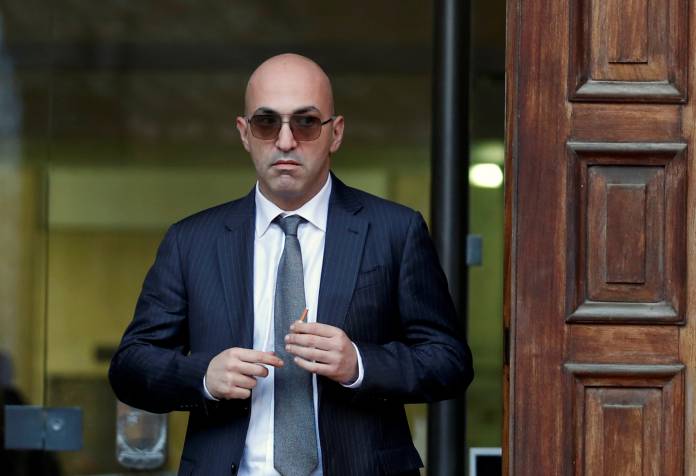 Tista' taqra bil- Malti.
Son of slain journalist has dismissed calls for Yorgen Fenech to be given pardon or a reduction in his sentence upon conviction.
"No one should be talking about pardons when Malta has a plea-bargaining mechanism in place. But either way, not even that should be considered when it comes to a cold-blooded murderer like Yorgen Fenech," Matthew Caruana Galizia wrote on Facebook following a statement by Civil Society Network and a suggestion made by Nationalist local councillor Mark Anthony Sammut that murder suspect Yorgen Fenech should be given a reduced sentence or a pardon, if he provides information on corruption at a political level.
Fenech stands charged with complicity in the assassination of investigative journalist Daphne Caruana Galizia and is currently facing criminal proceedings.
Caruana Galizia explained that their goal was to achieve justice and not put X and Y in jail.
"Some politicians do have to go to jail along the way. But when they do, it will be as a side effect of the justice process, and not the end goal," Caruana Galizia wrote.
Caruana Galizia also referred to inaction by the police saying that they have sat on evidence of crimes perpetrated by politicians for years after it was handed to them on a silver platter by the Financial Intelligence Analysis Unit (FIAU). He noted that without the police doing their job, the entire system falls apart. He stressed that the first thing which was needed is for the police to do their job.
"They've done close to nothing to move corruption investigations forward, and it is not just because of a lack of resources."
Sammut suggests pardon or a reduced sentence for Fenech
Nationalist local councillor Mark Anthony Sammut has suggested that Fenech should be given either presidential pardon or a reduced sentence if he provides information on the "web of mafia connections in politics". Sammut remarked that it seems that what has been made known so far about the gas-fired project, Electrogas, is just the tip of the iceberg.
Sammut referred to an article which appeared on MaltaToday reporting that Fenech had told the police that he had information about Macbrdige. The murder suspect had told the police he was ready to reveal details of Macbridge which along 17 Black was to serve as the "main target clients" from which money would then flow into the Panama companies Tillgate and Hearnville owned by the disgraced then-OPM Chief of Staff Keith Schembri and disgraced then-minister Konrad Mizzi.
MaltaToday reported that Fenech knew who had set it up and as well as who owned the mysterious company.
Sammut remarked that millions were involved in the sale of Enemalta, BWSC and the feasibility studies on the permanent link between Malta and Gozo.
Sammut maintained that "greater justice is achieved for Caruana Galizia" if Fenech is pardoned in order to destroy the criminal network in power.
Fenech should get a reduction in sentence – CSN
The Civil Society Network said that because of the scale of the murder as well as Fenech's position in society and in the business world, it did not share the opinion that the murder suspect should be forgiven. Instead CSN suggested that there should be a reduction in the sentence if and only if he provides effective evidence of corruption and criminality on a national level. It added that should Fenech lie, the compromises reached on the sentences should be rescinded.
The network said that Fenech should be given his 'last' chance to reveal what he knows.
Fenech had sought a presidential pardon
Daphne Caruana Galizia's murder suspect had sought a presidential pardon last November to reveal all he knew but this was rejected by Cabinet. Melvin Theuma who acted as a go-between for Fenech with the suspected hitmen was granted a pardon to tell all.