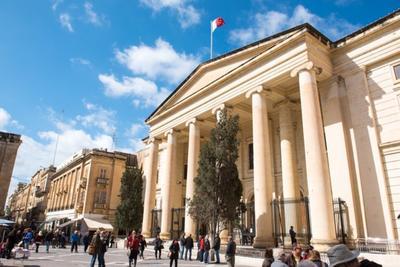 Masks will be available for court workers tomorrow and several sanitisers have been placed around the building as it reopens tomorrow after being closed as part of Malta's precautionary measures taken against the spread of coronavirus.
The law courts have been closed since the 16th of March. On Friday, Prime Minister Robert Abela announced that certain shops will reopen as from tomorrow to kickstart Malta's journey towards the new normal. These shops include clothes stores, shoe shops, shops selling perfumes, glasses and flowers. The law courts will also open tomorrow, however,the authorities have insisted on precautionary measures being taken nonetheless to maintain social distancing.
One of these measures obliges people to wear face masks when entering shops and commercial establishments. Shops also have to impose a limit on the number of persons allowed inside at a time.
The court's administration has seen to placing sanitisers in strategic places around the building. Glass has also been installed on all tables at the registrar so that the workers will be protected. Masks will be available for workers and judges alike. This is part of the logistical plan adopted through consultation between the court administration and health authorities.
The legal profession is also encouraged to use online services where possible.
The Ministry for Justice said that it will be following the situation at the law courts closely to see to it that there are no violations of the rules imposed by the health authorities.
If you want to be the first to receive the latest news on the coronavirus in Malta, download the Newsbook APP here.