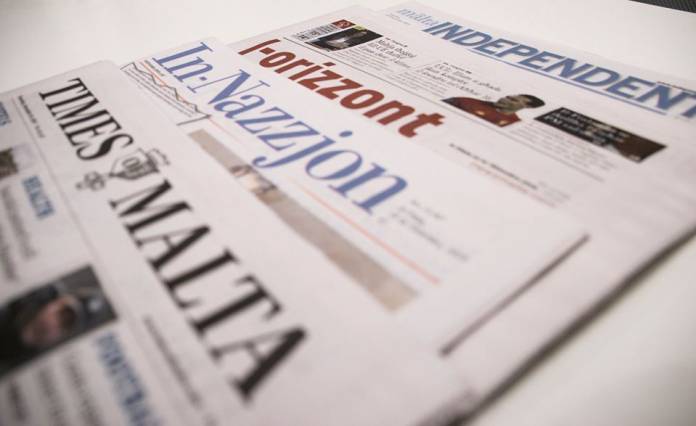 The developments within the Partit Nazzjonalista and the case of the abuse from the overtime system by police in the traffic section dominate today's front-pages.
The situation in the Partit Nazzjonalista Malta Today reports that the Nationalist Party has accumulated €34 million in debt to banks and major businesses. A former official says that the situation has made it difficult for people to assume important roles within the party.
The Independent reports that PN supporters squabble in public in the past days, some branding MPs asking Adrian Delia to go as 'traitors' while others calling them 'heroes'. The paper speaks to MP Mario de Marco who disagreed with the labels.
In-Nazzjon says that Francis Zammit Dimech has been voted interim PN secretary general by the party's councillor on Tuesday evening. The Executive Committee is expected to convene again on Saturday.
The Times leads with an investigation into 30 police officers from the traffic control unit, including one superintendent, who are being accused of fraudulent overtime claims. The unit numbers around 50 members.The Independent quotes a statement by the police which said that a contingency plan has been put in place to make up for the suspended traffic police officers. Addressing parliament, Home Affairs Minister Byron Camilleri said that a whistleblower is involved in the case. On the same theme, Malta Today says that motorbikes used by traffic police involved in the overtime racket had their tracking instruments disabled or removed. Home Affairs Minister Byron Camilleri said that decisions on the future of the officers will be taken after they court charges are pressed.
In other stories, L-Orizzont reports on the compilation of evidence against Justin Borg, charged with the murder of ex-partner Chantelle Chetcuti in Żabbar. One of the witnesses said that he found the woman on the ground with a knife sticking out of her temple.
The Times speaks to sources within financial institutions who warned that Maltese citizens and businesses are finding it increasingly difficult to open bank accounts with overseas banks. One official confirmed that there is a negative perception of Malta in the community.
L-Orizzont says that a victim of sexual abuse by a priest is requesting a meeting with Pope Francis when he visits Malta in May. David Cassar said that victims are demanding compensation by the church for their suffering.