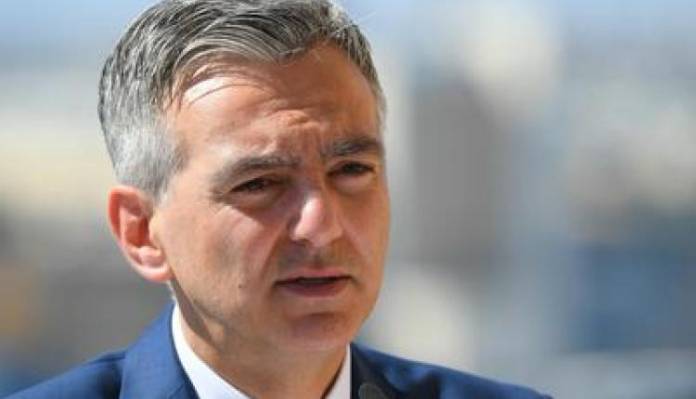 Tista' taqra bil- Malti.
Former PN leader Simon Busuttil warned that Malta had become a democracy only in name following the assassination of journalist Daphne Caruana Galizia in his last speech in parliament this evening.
Busuttil submitted his resignation from Parliament at the end of his speech, effective at the end of the month, to take up the post of secretary-general at the European People's Party.
He pledged to keep two priorities in mind when he takes up the post, stating that the first would be to help address Malta's tarnished reputation.
But he also said that he would make sure that Europe continued to keep an eye on Malta, especially when it came to the fight against corruption and to justice for Caruana Galizia.
"We have not joined the EU for money for our roads, but because we are European. And as Europeans, we deserve to live in a true democracy, where justice and the rule of law reign."
He said that he dedicated his final speech to Caruana Galizia, and expressed his hope that Parliament would honour the "martyr of democracy," possibly by naming a hall for her as the European Parliament had done. But he added that her assassination was a fatal blow to Malta's democracy, which, he said, "is on life support."
Government 'corrupt from head to toe'
Busuttil said that Prime Minister Robert Abela was sorely mistaken if he thought that things were back to normal simply because he succeeded Joseph Muscat, as the pillars of democracy – the executive, legislative, judiciary and the media – had all crumbled.
The government was "corrupt from head to toe," the departing MP said, arguing that the overtime fraud allegations wracking the police force were hardly surprising given that many have been operating with impunity.
He questioned whether it was normal not to proceed against Keith Schembri and Konrad Mizzi, to ignore the fact that former minister Chris Cardona's number was the only one found on a mobile phone used by one of the men accused of carrying out Caruana Galizia's assassination.
"If this is a normal country for the Prime Minister, then I wonder what an abnormal country is to him," he said.
Busuttil insisted that corruption was a cancer that could grow and destroy everything if left unchecked. He warned Abela that the same could happen to his own party if he did not act in time.
Parliament not doing its job
As for parliament, Busuttil said that one had to be honest and admit that it was not serving its function. He said that it was impossible for this to happen so long as most government MPs were made ministers and parliamentary secretary, and most of the rest bought by public appointments.
Busuttil said that only two government MPs were not bought, paying tribute to independent MPs Marlene Farrugia and Godfrey Farrugia for choosing principles over party and leaving Labour.
He said that parliament needed to be strengthened, but insisted that salaries needed to be strongly increased.
"How else can we find good politicians… by bribing them like the government does," he questioned.
Courts 'not serving justice'
The former PN leader was also critical of the courts, noting how a number of judges and magistrates were either refusing calls for inquiry or sleeping on them for years on end.
The matter was made worse by government "abusing the system of judicial appointments, packing the courts with Labour activists, and damaging – if not outright destroying – the independence of the judiciary."
Busuttil emphasised that most judges and magistrates were persons of integrity and competent, but said that people should not have to hope to be assigned to "someone with a conscience" when seeking justice.
Without justice, he added, one could not achieve unity.
Party media 'feed venom to the public'
Busuttil said that Maltese media's independence was itself compromised by the assassination of Caruana Galizia to cover up corruption.
But he also criticised party media, stating that they were serving to "feed venom to the public."
The MP said that he was all too aware of this, stating that through Labour's One media, he "became a monster to half the country."
Additionally, he said, social media had devolved into "a jungle of insults and hatred, which is causing irreparable harm to our social fabric."
He later noted that he was disappointed to see the country divided over the fight against corruption, noting how he had become "public enemy number two" – after Caruana Galizia – as a result.
But on a more positive note, he welcomed the growth of civil society, specifically mentioning Repubblika and Occupy Justice, describing them as "the rose that came out of the thorns."
PN should take Busuttil's message to heart – Delia
In an appearance on Net TV tonight, PN leader Adrian Delia insisted that the party had to keep his predecessor's message to heart as it addressed corruption.
He said that the extent of corruption was numbing the public, leading to children growing up in a culture which saw nothing wrong in wrongdoing. Children, he said, could grow up thinking that it was not worthwhile to struggle to succeed, as one could simply succeed by bribing people instead.
Delia also argued that Busuttil's new role in the EPP was a boon to Malta, as it could strengthen the PN's – and the country's – voice in Europe.