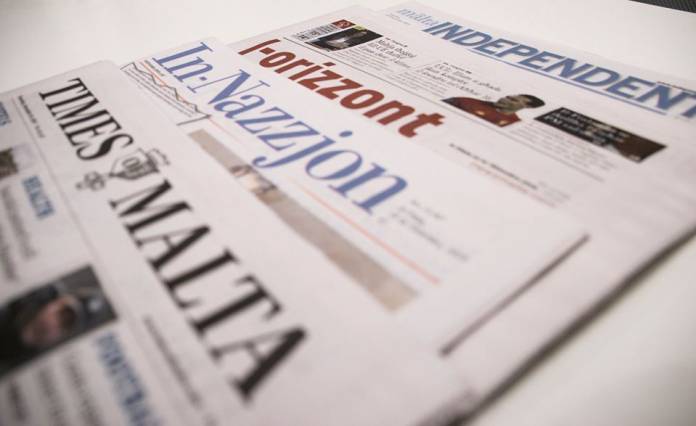 The Times leads with results from a Chamber of SMESs survey which showed that a fifth of members experienced difficulties in paying wages amid the coronavirus outbreak. Over a third said they will not be able to keep their employees for more than two more weeks.
The Independent reveals that preparations in the healthcare system are in full swing in case of a surge in Covid-19 cases. The emergency department at Mater Dei hospital is operating as usual but part of it could be converted exclusively for coronavirus patients.
L-Orizzont follows a radio interview with Prime Minister Robert Abela who said that the current situation is "calm and under control". Abela said that he expects cooperation and responsibility while the country is in partial lockdown.
In-Nazzjon quotes PN Leader Adrian Delia who appealed for unity to control the coronavirus spread. He thanked health professionals for their dedication and said that the time has come for the government to close the country's borders.
The Times quotes WHO official Gauden Galea who said that the measures taken by Malta to limit the spread of the virus are good practice and consistent with the organisation's international recommendations.
In-Nazzjon carries a statement by the Chamber of Pharmacists demanding an immediate lockdown. The President of the Chamber of SMEs, meanwhile, criticised the measures announced by the government for business.
L-Orizzont speaks to an employee in the catering sector who was informed by the business owners that the establishment will be closed for at least two weeks and that he would need to go on unpaid leave.
In-Nazzjon reports that a 37-year-old man died from knife wounds on Sunday in Qawra. The police confirmed that another man was taken into custody in connection with the case. Both the victim and the arrested are from Nigeria.
L-Orizzont says that the General Workers Union welcomes a government decision to consider quarantine periods as special paid leave. The union said it was among the first to put forward such proposal.
If you want to be the first to receive the latest news on the coronavirus in Malta, download the Newsbook APP here.