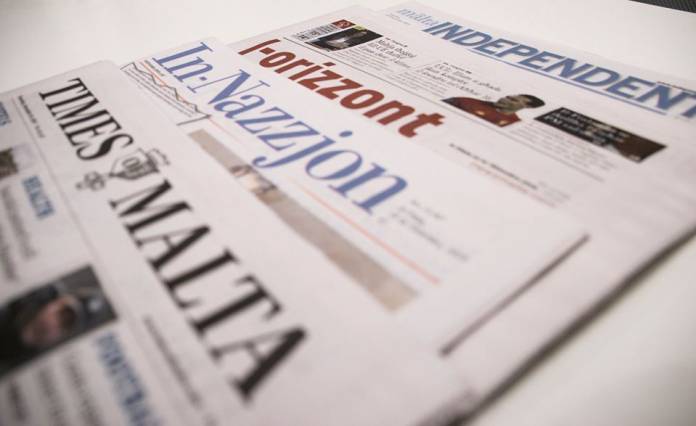 Good morning,
These are the main stories from today's Newspaper front-pages.
The Malta Business Weekly quotes the latest economic forecast by the European Commission which is bracing itself for the biggest recession "since the Great Depression". Malta is predicted to suffer the third-lowest contraction, at -5.8 percent.
L-Orizzont also cites the EC Spring Economic Forecast which projects a growth of six percent in Malta's economic performance in 2021. The paper says that, in comparison, the economy grew by 4.4 percent in 2019.
In-Nazzjon says that government debt grew to over €312 million over the first quarter of this year, with an increase in the national deficit of €178 million. Figures for March show a combined decrease of €35 million from VAT and income tax compared to the previous year.
The Independent reports that VAT on face masks and visors will be revised down to five percent from the standard 18 percent. Economy Minister Silvio Schembri said that importers will, however, still have to pay VAT and customs tax.
The Times reveals that lawyer Charles Mercieca has resigned from the office of the attorney general and is expected to join Yorgen Fenech's defence team. The former member of the AG litigation team was not involved in the businessman's prosecution.
L-Orizzont gives an update on the latest developments in the coronavirus situation. Two people tested positive for the infection from nearly 14,000 tests carried out on Wednesday, while another four patients have been confirmed recovered.

The Times says that Air Malta has reviewed its downsizing strategy and plans to keep more pilots and cabin crew on its payroll that originally declared. The airline is also projecting to operate up to five aircraft by summer 2021 instead of just two.
The Independent quotes a Eurostat report which indicates that carbon dioxide emissions from energy use in Malta continued to rise since 2017. Figures for 2019 show the Malta is one of only four EU states to register an increase in CO2 from fossil fuel combustion.
In-Nazzjon follows an e-summit between leaders of the European People's Party focusing on immigration. PN Leader Adrian Delia said that collaboration is necessary to prevent a humanitarian crisis.

L-Orizzont quotes European Commission Vice-President responsible for digital transformation Margarethe Vestager who said that it will be difficult for life to return to normality before a tracing app is introduced.