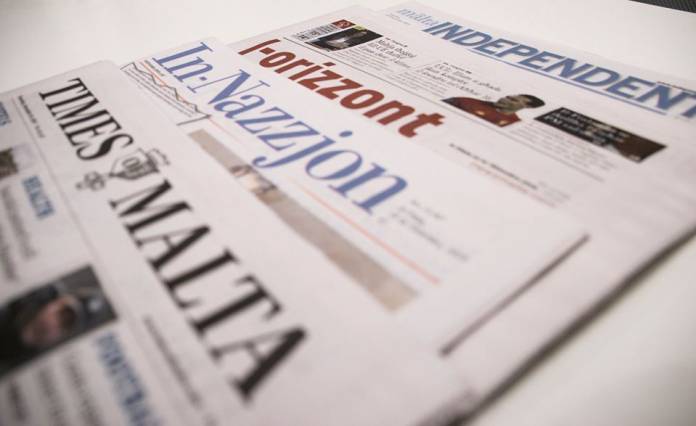 All newspapers lead with the story related to the case of the murder of Chantelle Chetcuti.
Malta Today leads with charges brought against Justin Borg, 33, accused of murdering his former partner Chantelle Chetcuti, 34, stabbing her repeatedly in the head on Sunday evening. Borg pleaded not guilty.
The Independent reports that lawyers Franco Debono entered a not guilty plea on behalf of Justin Borg to charges of murdering of his former partner. The defence did not ask for bail but requested a court-appointed psychiatrist to examine Borg.
L-Orizzont follows the case in court in which Justin Borg is facing additional charges of carrying a knife without licence, being in possession of cocaine and public disorder. The paper says that in 2013, Chetcuti had filed domestic violence complaints against him. The Times says that the killing of Chantelle Chetcuti triggered anti-femicide protests in Valletta. Dr Marceline Naudi, Head of the Gender Studies Department at the University of Malta, said that it is important to describe the crime correctly.
In-Nazzjon covers the protest outside parliament on Tuesday as NGOs appealed authorities to treat the killing of Chantelle Chetcuti as an 'urgent national situation' and not a private case. The called for tougher laws against perpetrators of gender-based violence. Malta Today speaks to relatives of Chantelle Chetcuti who described her as "lovely, happy, down-to-earth". Reports said that Borg had been stalking the mother-of-two for weeks since she broke up with him.
In-Nazzjon says that Justin Borg remains in custody at the Corradino Rehabilitation Facility. The paper reports that he fathered two children, aged 13 and 7, with murdered Chantelle Chetcuti. L-Orizzont speaks to lawyers and women's rights activist Lara Dimitrijevic who said that Chantelle Chetcuti's blood is "on all our hands". Dimitrijevic rejected the use of the term 'crime of passion', insisting that this represents violence against women.
In other stories The Times reveals that PN MPs are expected to raise concerns about the party leadership in a parliamentary group meeting this evening. An unnamed MP told the paper that there are no plans to oust Adrian Delia but hopes that he will step aside "in the interests of the party".
The Independent covers the launch of a shore-to-ship energy project by Infrastructure Malta that is estimated to cut cruise liner emissions in the Grand Harbour by 90 percent. The system will allow ships to plug into the electricity grid instead of running on on-board power.