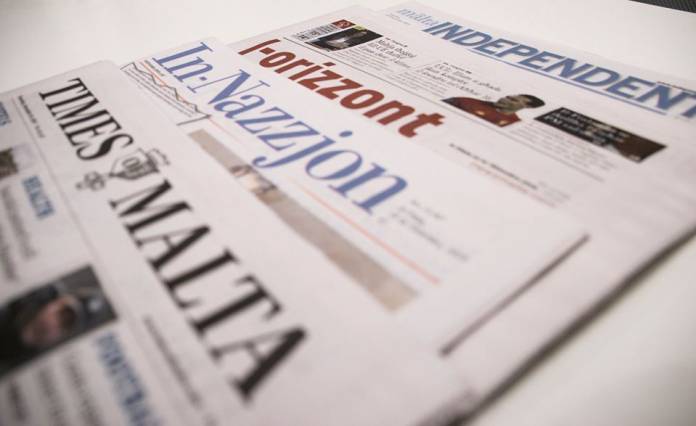 Good morning, these are the headline stories on Malta's front-pages
The Malta Business Weekly reports that the government is making plans to repatriate Maltese residents in France, Spain, Germany and Switzerland where the rate of coronavirus transmission has risen exponentially in the last few days.
The Independent says that the government has imposed a ban on travel to and from Spain, Germany, Switzerland and France in addition to Italy. Addressing a press conference on Wednesday afternoon, the Prime Minister said decisions are being taken hour-by-hour.
The Times carries an announcement by Prime Minister Robert Abela who said that self-quarantine is now mandatory for anyone returning from five hard-hit countries. The police will enforce fines of €1,000 every day for those caught not observing the quarantine.

Business Today speaks to Finance Minister Edward Scicluna who said that the government is considering aid for businesses affected by the coronavirus. The ministry is holding talks with stakeholders to assess the impact of the disease on the economy.
In-Nazzjon reports on the seventh case of Covid-19 in Malta after two more people tested positive on Wednesday. Meanwhile, the World Health Organisation declared coronavirus outbreak a pandemic.
L-Orizzont says that the first case of a Maltese person who tested positive Covid-19 was registered on Wednesday. The 55-year-old man is a consultant at Mater Dei hospital who has recently returned from a holiday in the north of Italy.
The Malta Business Weekly quotes a British health expert who predicts a surge in virus cases over the next three weeks. German Chancellor Angela Merkel also said that seven in ten people in Germany are expected to get the infection.
The Independent reports that Identity Malta employees on Wednesday refused to open the expatriates' office demanding protective gear before they could assist people. Queues of hundreds of people formed outside the premises in Msida.
L-Orizzont covers a press conference by the Prime Minister and Minister of Health who made appeals for elderly persons to stay at home as much as possible. The government is also working to provide basic needs to people in quarantine.
In-Nazzjon quotes the Union of Teachers who said that attendance in schools has fallen to around 40 percent amid fears of the disease. PN Leader Adrian Delia urged government to address the pressing issue.
The Times reveals that families in Triq il-Mimosa, Gwardamangia, had written to the developers of a nearby construction project requesting that they respect the law. The letter was sent a month before a major house collapse occurred in June last year.
L-Orizzont speaks to Social accommodation Minister Roderick Galdes who said that there have been more than 6,000 registrations of rental contracts since the new rent laws came into effect at the start of the year.