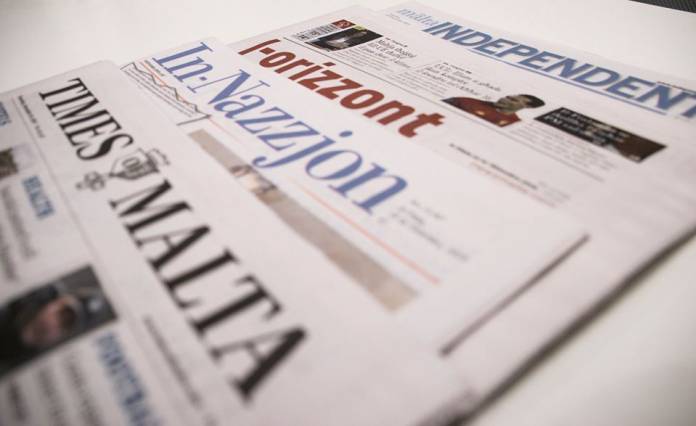 These are the front page stories covered by Malta's newspapers.
The Independent reveals that Infrastructure Malta has issued €8 million worth of Direct Orders in the final six months of last year. The paper says that there were almost 100 projects deemed by the agency as 'urgent' or 'emergency' works.
The Independent says that the UK will continue to participate in the Erasmus mobility programme for students despite Brexit and participants may choose to study in Britain. EU official Peter Agius urged more Maltese students to take part in the programme.
The Times reports that the police have concluded an investigation into former Labour Party general secretary Jimmy Magro for demanding a cut from suppliers on a €250,000 government tender in 2017. The police confirmed that Magro will face criminal charges.
The Times says that opposition MPs working in the public sector have been warned by the Office of the Prime Minister to report for work. Sources told the paper that several MPs employed with state entities regularly skip on their duties.
L-Orizzont speaks to road safety expert Pierre Vella following a traffic accident in Mistra that claimed the life of a 49-year-old motorcyclist on Saturday. Vella acknowledged that the secondary roads in Mistra are black spots and cautioned drivers to take extra care.
L-Orizzont covers a ceremony in Bormla to remember the nine Dockyard workers who died in the Um EL Faroud tragedy 25 years ago. General Workers Union secretary general Josef Bugeja said that occupational health and safety must be made a priority.
L-Orizzont quotes the Prime Minister who said that the government will revise the Individual Investor Scheme and seek to strengthen its regulatory framework but does not intend to cancel the scheme altogether. 
In-Nazzjon quotes PN Leader Adrian Delia who said that the Vitals hospitals contract shows how corruption robs the country. He accused the government of using the healthcare sector to give millions to the inner circle and leave the public with nothing.