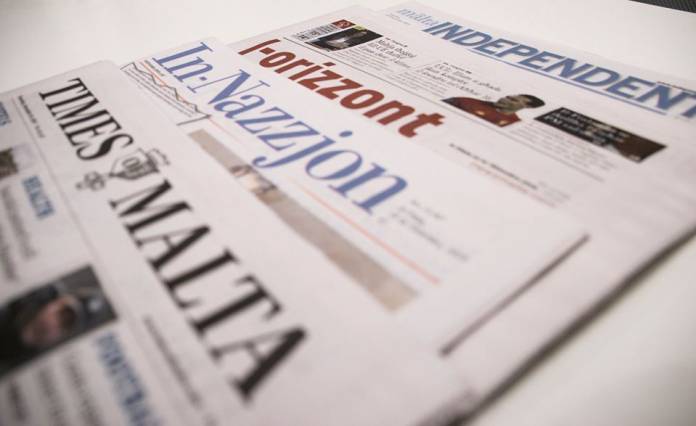 These are the main stories covered by Malta's newspapers in their front-pages.
The Times of Malta leads with data sourced from the EU Kids Online 2020 survey, which has revealed that 1 in 5 Maltese children have reported receiving requests of a sexual nature over the internet while 25% have received sexually explicit messages. This is the highest rate in the countries covered by the survey. The same study, which interviewed 9 to 16-year-old across 19 European countries, found that Maltese children sent over three hours a day on the Internet. The Times of Malta reports that Magistrate Rachel Montebello, who is presiding over the compilation of evidence against Yorgen Fenech, the man accused of commissioning the Caruana Galizia murder, has requested the redrafting of the transcripts of the secretly recorded conversations, as the originals were deemed "inaccurate".
The Malta Independent reveals that the Malta Police Force is currently looking for a Victim Support Officer to provide support to crime victims, including domestic violence, and train police officers on current victim-centred approached. The Malta Independent also takes cue from PN leader Adrian Delia's comments yesterday, in the light of the recent allegations related to the Police Force. Delia claimed that ultimately the buck stopped with the Prime Minister, as he still re-appointed Minister Farrugia to Cabinet despite knowing of this scandal. Pointing out at Justyne Caruana's resignation, Delia remarked that this was a case of one weight and two measures.
L-Orizzont takes excerpts from Prime Minister Robert Abela's speech during yesterday's Labour Party General Conference, highlighting his disappointment on the allegations of abuse within the Police Corps, and insisted that he was now expecting results rather than excuses. Dr Abela claimed that contrary to even his own expectations, Malta was once again experiencing normality thanks to Government's decisions taken in the past weeks. L-Orizzont casts doubts on the election of Dr Francis Zammit Dimech as interim Secretary-General of the Nationalist Party, quoting unnamed sources who reported an unauthorized presence by the same Zammit Dimech during the last meeting of the Executive Committee.
In-Nazzjon quotes Nationalist Party leader Adrian Delia during yesterday's Party event at Zabbar. Dr Delia promised that the PN's priority was to ensure the country had a Police Force that truly acted as a shield for the Maltese public, while at the same time expressing his gratitude towards the dedicated members of the Force who had always carried out their duties with responsibility. In-Nazzjon reports that despite that Prime Minister Robert Abela is facing significant pressure to seek Deputy Leader Chris Cardona's resignation – so much so that the latter was not given a speaking slot at yesterday's Labour Conference – the same Cardona challenged the Party by being present at the Conference.